Dealing with Mud at Site Exits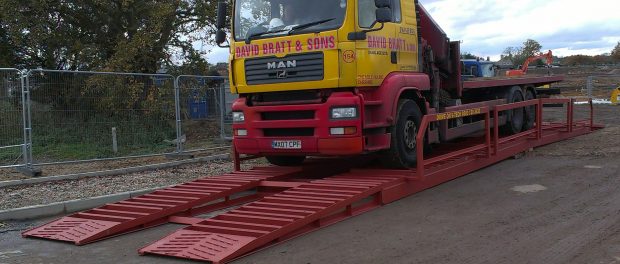 As the saying goes – you can't trust the weather! Did you know, there is no such thing as bad weather, just the wrong kind of wheel wash….
Ecogreen Plant Hire's DriveOn V-Tech waterless wheel cleaning system is a raised grid device, so it needs no water, power or supervision. It needs no ancillary equipment hires such as lances, bowsers, pumps or bunds. It can't break down, dry out or freeze up. It can't contaminate water courses, or generate any emissions and it definitely can't create more mud, and leave you with more of a mess than you started with.
Unlike other dry, raised grid types its unique construction means that it has up to 60% less surface area for displaced mud to sit on – the transverse bars are just 30mm wide (but will support up to 50 tonnes) and they are spaced at 200mm. So, there is much more vibration and tyre flex and the mud that is stripped off falls through and not on.
All of which means that you can reduce your reliance on road sweepers, comply with planning requirements, keep your neighbours happy, make less impact on the environment – and save money because it can reduce the need for road sweepers significantly.
Wherever there is a mess that could be tracked out onto the road – be it major infrastructure projects, utilities and civils projects, house building, quarrying or landfill sites, the system is quickly and easily installed and has proved its capability.