Cutting Sheet Metal; Your Options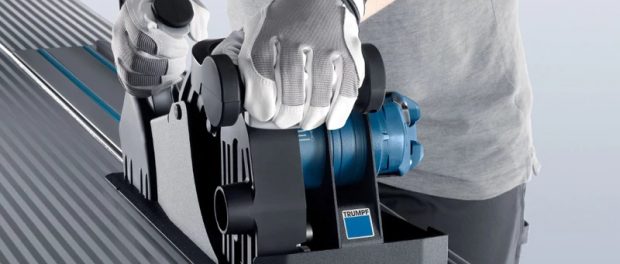 Every tradesperson, construction worker, and DIYer knows that using the right tools is essential. The first step to choosing the right tools is getting to know your options. Cutting sheet metal is an excellent example of this. It is an integral part of many construction areas and has a range of tool options, with new products consistently being added to the market. So what should you be using? This guide will walk you through the options highlighting the benefits and uses for nibblers, shears and panel cutters, and more.
You Can Use A Metal Nibbler
Metal nibblers are some of the best tools for working with sheet metal. When choosing metal nibblers, you have two types: manual and shear.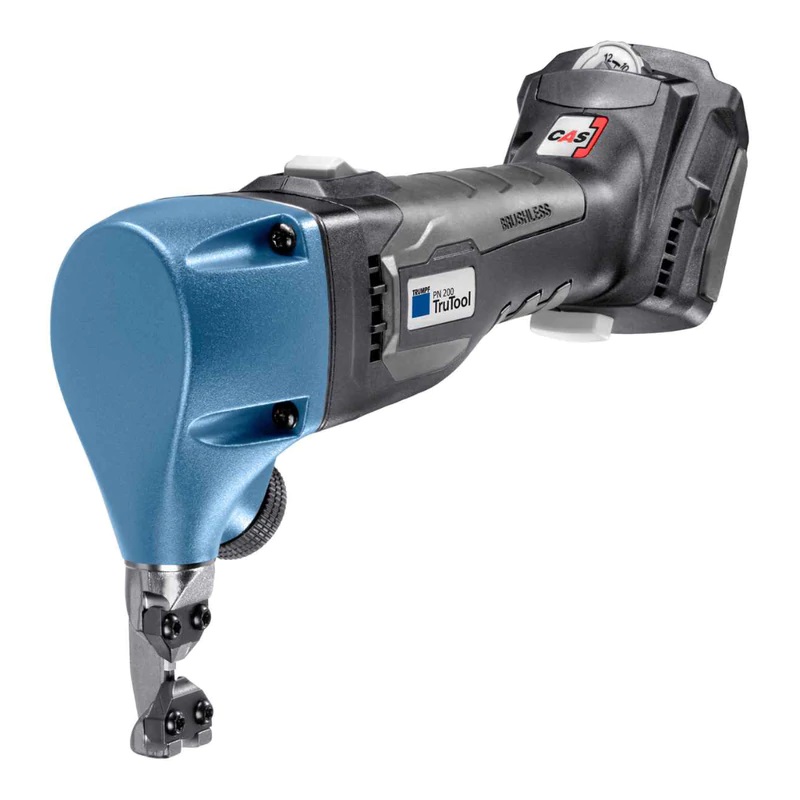 Manual nibblers move linearly against a fixed point. They operate like a punch and die, removing small pieces from the metal. On the other hand, Shear-type nibblers are more similar to tin snips as they shear along parallel tracks and roll waste metal into a tight spiral.
The Benefits Of Metal Nibblers:
Nibblers cause minimal distortion to your material.
They're versatile; able to achieve sharp, diagonal and rounded cuts.
Nibbler cutting tools do not create emissions or sparks.
Nibblers don't use feed force, so your instrument will glide.
Different Models Of Metal Nibbler
Popular brands such as TRUMPF offer a range of metal nibbler tools. A key factor to consider is the thickness of the material you're working with. For example, the N160 can tackle sheets up to 1.6mm, whilst the TruTool PN200 can work with thicknesses of 2mm in mild steel (or 1mm in stainless steel).
You Can Use Shears
Metal cutting shears are another amazing tool for cutting metal sheets. With the right shears, you will be able to cut through 1.6mm thick mild steel. They are suitable for flat and curved surfaces, making them ideal for working with complex curves.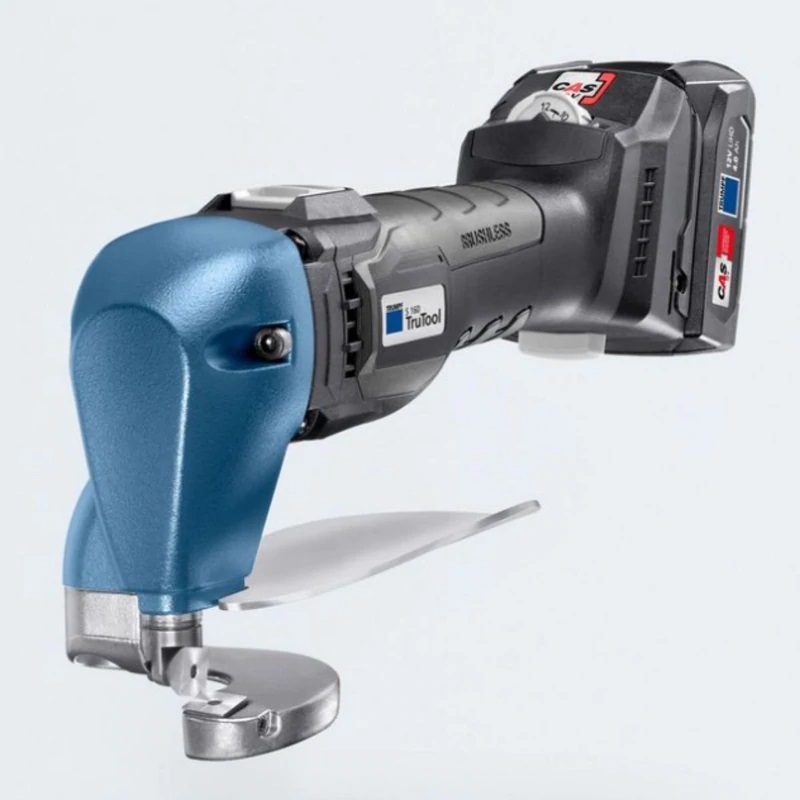 The Benefits Of Shears:
They have an unlimited service life thanks to their brushless motor.
They have a relatively low price point.
Shears are better at handling curves than nibblers.
Metal cutting shears are lightweight.
Different Models Of Shears
There are many great shear options. The TRUMPF TruTool S160 shears, for example, is a favourite for elevating metalworking capabilities. It's easy to handle whilst mating precise cuts. It can cut the smallest radii in steel down to 15mm and offers fantastic performance on curves.
You Can Use Slitting Shears
In addition to standard shears, slitting shears are also a great addition to your toolkit. Used to resize sheet metal, slitting shears cut out a narrow strip from the middle of your material, leaving two separate pieces and a long strip.
The Benefits Of Slitting Shears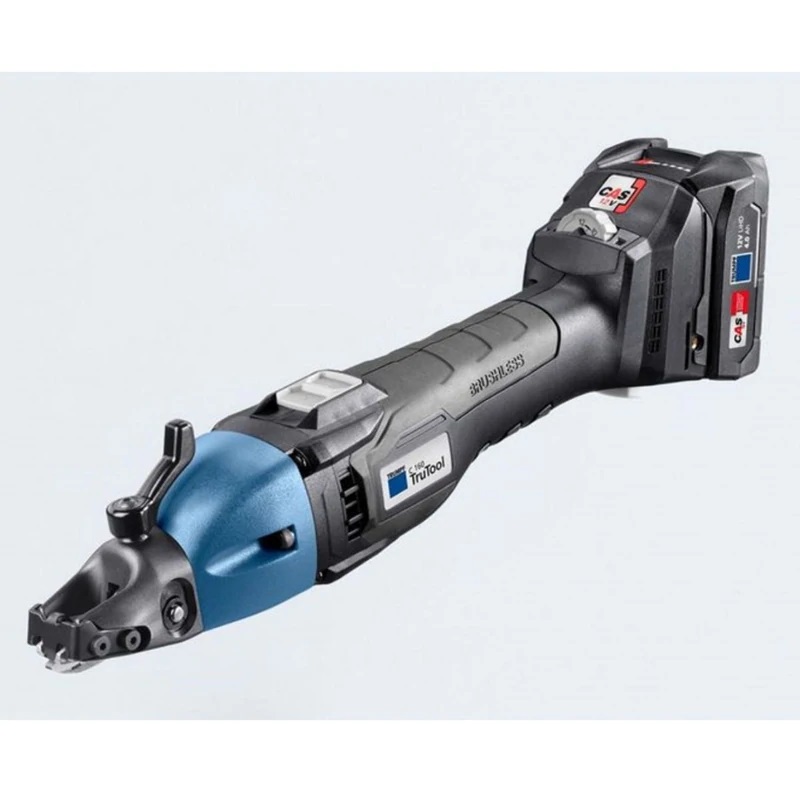 Slitting shears offer fast cutting speed.
Slitting shears won't deform the material during your trimming process.
They provide an unobstructed view for quick and precise work.
They're ready to use immediately with no need for adjusting.
Different Models Of Slitting Shears
TRUMPF TruTool C160 slitting shears are a popular product in this category. They can cut metal up to 1.6mm thick, and you can use them with or without a chip clipper. This model is soft-gripped and has low vibration for straightforward use. It also weighs just 1.5kg.
You Can Use Metal Panel Cutters
For bigger projects, a panel cutter may be exactly what you need. Panel cutters are designed to cut through sandwich panels that other tools like nibblers could not handle. Metal panel cutters are perfect for cladding installers. Speeding up the process of resizing polyurethane and mineral wool panels, for instance, cuts down labour costs. Adding a top-quality metal panel cutter to your toolkit is a worthwhile investment.
The Benefits Of Metal Panel Cutters: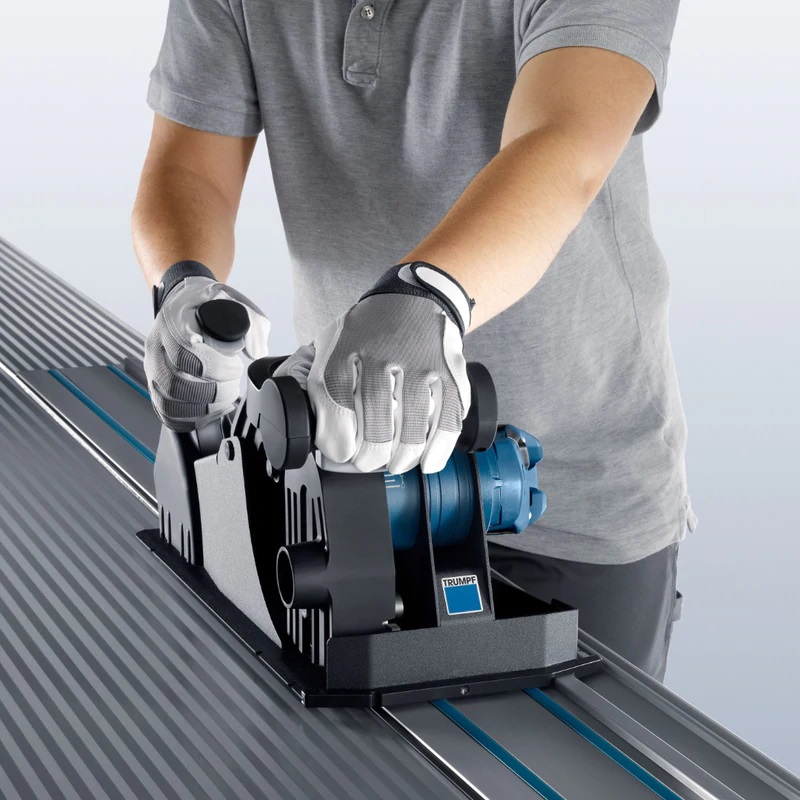 Lighter and smaller than circular saws.
Dust extraction ports help keep operators safe.
You won't need to purchase replacement parts often as they offer a long blade life.
Cuts are fast, reducing the time spent managing materials.
Different Models Of Metal Panel Cutter
TRUMPF are the go-to for cladding installers and this remains the case for metal panel cutters. The TRUMPF TruTool TPC165 panel cutter is a popular choice with its ability to cut through sheets up to 200mm in one operation. Provided their combined thickness is less than 200mm, it can cut through two panels simultaneously. It also offers a 90-degree adjustable blade for quickly producing right-angle cutouts.
Get The Right Metal Cutting Tools
There are many tools for cutting metal and various options depending on your specific task. There are many great products within each category that will help you produce more precise work more efficiently. Make sure you have the necessary tools to save time and money whilst creating even better results.