Curtain goes up on multi-million project for Gilbert-Ash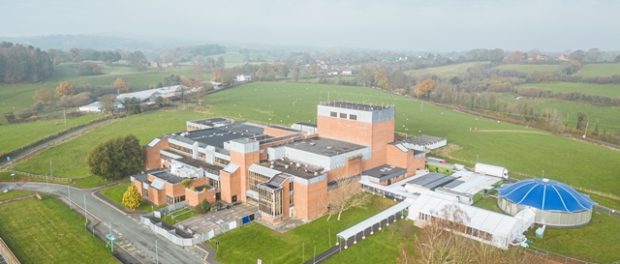 Award-winning company appointed main contractor for major redevelopment of Theatr Clwyd in Wales
Leading construction and fit-out company Gilbert-Ash has been appointed main contractor for the £38million redevelopment of Theatr Clwyd in Mold, North Wales.
The construction, which is planned for completion in late 2024, aims to set a high bar in delivering a stand-out cultural space with zero carbon emissions.
It also sees Gilbert-Ash reunite on a theatre project with architects Haworth Tompkins and Project Directors Plann. Gilbert-Ash was the main contractor in 2014 when Haworth Tompkins won the Stirling Prize for the Everyman Theatre in Liverpool.
The Theatr Clwyd project includes the major refurbishment of the existing theatre which will see the 1970s building being stripped right back to its shell. In addition, there will be a new build construction of a timber foyer extension to the front and carpentry workshop to the rear.
Works also include new MEP systems, windows, roof coverings and theatre technical systems.
Once complete, the building, which was originally designed as a TV production space and theatre, will provide multiple platforms for performance, music and community use.
Every effort has been made to minimise the building's carbon footprint during the redevelopment while several design elements have been included with the aim of meeting a whole life zero carbon target for the new building. These include the reconfigured foyer and sun shading canopy being made from larch and reused steel, while existing space will be upgraded and insulated to allow the theatre to run on 100% renewable electricity via air sourced heat pumps and LED lighting.
There will also be a programme of tree planting green walls, roof planting and the widespread use of PVs.
Gilbert-Ash Managing Director, Ray Hutchinson, said the company was delighted to be once again working on a project which has been designed by Haworth Tompkins.
He said: "This is a truly exciting project, and we are looking forward to working closely with Haworth Tompkins and our Client, Flintshire County Council and Theatr Clwyd Trust in making these ambitious designs a reality.
"I believe this will be another stand-out project in our portfolio and one which could have the power to make people re-think how cultural spaces are constructed in the future.
"This will be a building which will serve as a real hub for the performing arts in this region and one which, through its intelligent design, will have only a minimal impact on the environment.
"Annually, the theatre attracts over 200,000 paying visitors and plays an important role in the community with its outreach programmes.  The redevelopment will enhance the experience for all visitors and provide a significant economic impact in the region.
Gilbert-Ash has a unique approach to construction, fit-out and refurbishment based on the belief that great buildings come about through hard work, inspired innovation and genuine collaboration.  Sustainability is a key focus for Gilbert-Ash with a number of initiatives underway to help the company to drive down its carbon footprint.
To find out more about Gilbert-Ash visit www.gilbert-ash.com.