CONTAINEX: Mobile space solutions for your construction site facility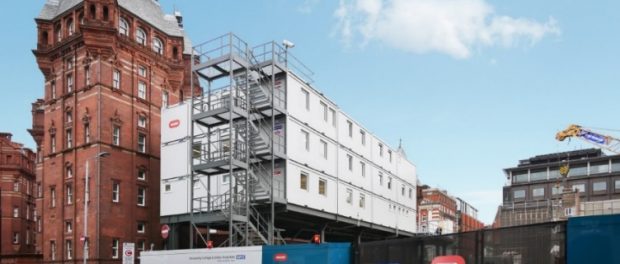 When it comes to the construction industry, mobile space systems such as contractors' offices, welfare facilities, canteens, workshops and accommodations play a crucial role at every construction site. One of the "major players" in the market is the container, cabin and modular building manufacturer CONTAINEX.
Quality meets experience
CONTAINEX produces its mobile space systems in its own European production plants – and has been doing so for more than 40 years. Around a third of the annual production of over 80,000 units is supplied to the construction industry. In addition, CONTAINEX operates a large rental fleet of more than 120,000 units with numerous trading partners, guaranteeing prompt availability and rapid delivery throughout the UK and Europe.
CONTAINEX has always relied on energy-efficient designs, the use of recyclable materials and environmentally friendly production processes. The containers and space modules are therefore manufactured according to the strict internal environmental and quality standard called CONTAINEX GREEN technology.
Fire protection as top priority
CONTAINEX is up to speed when it comes to fire protection as well. The fire protection of our modular system ensures absolute safety at the workplace while meeting regulatory requirements.

The PLUS of innovation
In addition to the proven and tested CLASSIC Line – the "Volkswagen" of the company – customers now have the innovative CONTAINEX PLUS Line, which meets particularly high requirements in terms of equipment and design. The high-quality insulation (more than 65% CO₂ reduction compared to European standard products) with standard fire protection as well as individual equipment variants guarantee a unique ambience and a natural indoor climate. For example, the PLUS Line is equipped with electric external Venetian blinds or aluminium roller shutters, fixed or partial glazing with the best U-values and a thermally separated external door.
The CONTAINEX PLUS Line also has a stylish, elegant design. Externally, the PLUS Line gleams in an attractive anthracite grey; inside, harmonious room transitions and flooring laid throughout create a feel-good atmosphere. Special highlights include the modern sanitary installations (concealed), high-quality solid wood internal staircases, LED lighting and the suspended ceiling.
Versatile use – varied equipment
Containers and space modules from CONTAINEX can be used in a variety of ways: as both office and sanitary facilities on construction sites, on company premises and at events, but also as residential modules, additional classrooms or nurseries, sports clubs or as temporary office space during renovations. The modules are also used as marketing suites and shops in a variety of industries.
At the same time, thanks to the flexible panel system, which works like a modular system, the modules can also fulfil complex configurations and are easily and quickly converted – from single cabins to large modular buildings. Thus, even subsequent adaptations are made possible.
The versatile configurable storage containers are particularly suitable as mobile warehouses on company premises or in construction. These are available in different sizes from 6 to 20 feet and with various equipment options. Especially for storage containers on construction sites, CONTAINEX has developed a security package that massively counteracts the high burglary risk. CONTAINEX storage containers prove themselves even on the toughest construction site applications, as perfect self-storage warehouses and as fire-protected "mover boxes" for furniture movers.
When it comes to your additional sanitary requirements, one thing is clear: with the CONTAINEX sanitary box you get a clean solution that relies on fresh water instead of chemicals. Thanks to the large number of equipment options (e.g. wash hand basin, standard WC or urinal shower cubicle with curtain) it can be perfectly tailored to your needs.
For more information about the company, visit our website at www.containex.com.