Construction underway for pioneering School of Digital Arts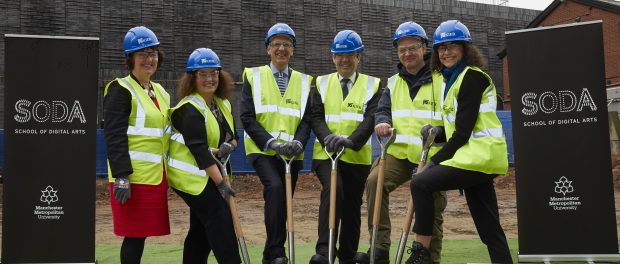 Today, Kier has started construction works on Manchester Metropolitan University's School of Digital Arts – a £35m investment into the future of digital storytelling.
To celebrate the start of works a special event was held that was attended by Mayor of Greater Manchester Andy Burnham, Manchester Metropolitan Vice-Chancellor Professor Malcolm Press, representatives from Greater Manchester Combined Authority (GMCA), the Greater Manchester Local Enterprise Partnership (GMLEP), Manchester City Council and the SODA architects Feilden Clegg Bradley (FCB) Studios and Kier.
The five-storey, 5,200m² SODA building will be located on Higher Chatham Street, adjacent to the Manchester School of Art in the Benzie Building. SODA will provide state-of-the-art lab spaces, workshops and professional networks, underpinned by a unique teaching and research environment to create, among others, the next generation of filmmakers, animators and games designers.
The project has been designed by FCBStudios and it will house a digital innovation and UX lab, film studios, green screens, edit suites, sound, music and production studios; alongside a screening room and gallery space, giving more than 1,000 students a year the chance to study disciplines that span animation, filmmaking, photography, UX and games design, AI and more.
The flexible design allows the building to adapt to developments in technology. A hi-res LED light wall will cover the exterior front of the building, providing a responsive and eye-catching digital canvas for student work.
Construction will conclude in spring 2021, in time for the building to open to students in September 2021. The School of Digital Arts (SODA) is a groundbreaking interdisciplinary school to support the urgent and growing demand for skilled workers in the region's creative digital and tech sector.
Peter Commins, managing director at Kier Regional Building North West, said: "This hugely important project is a key part of Manchester Metropolitan University's Estates Masterplan and we are thrilled to mark the commencement of work on site.
"Throughout the build we will be engaging with the city of Manchester workforce to create 10 apprenticeship opportunities and we will also be creating 100 local jobs on this project. Upon completion, this state-of-the-art facility will bring creative, digital, technology and business assets together to house a number of subjects under one roof."
Vice-Chancellor Professor Malcolm Press said: "SODA combines Manchester Metropolitan's excellence in the arts with our expertise in technology. The creative and digital industries are growing, here in Manchester, nationally and internationally, creating urgent demand for new skills and knowledge. SODA will prepare our students to be the next generation of creative talent, ready to succeed in these new roles.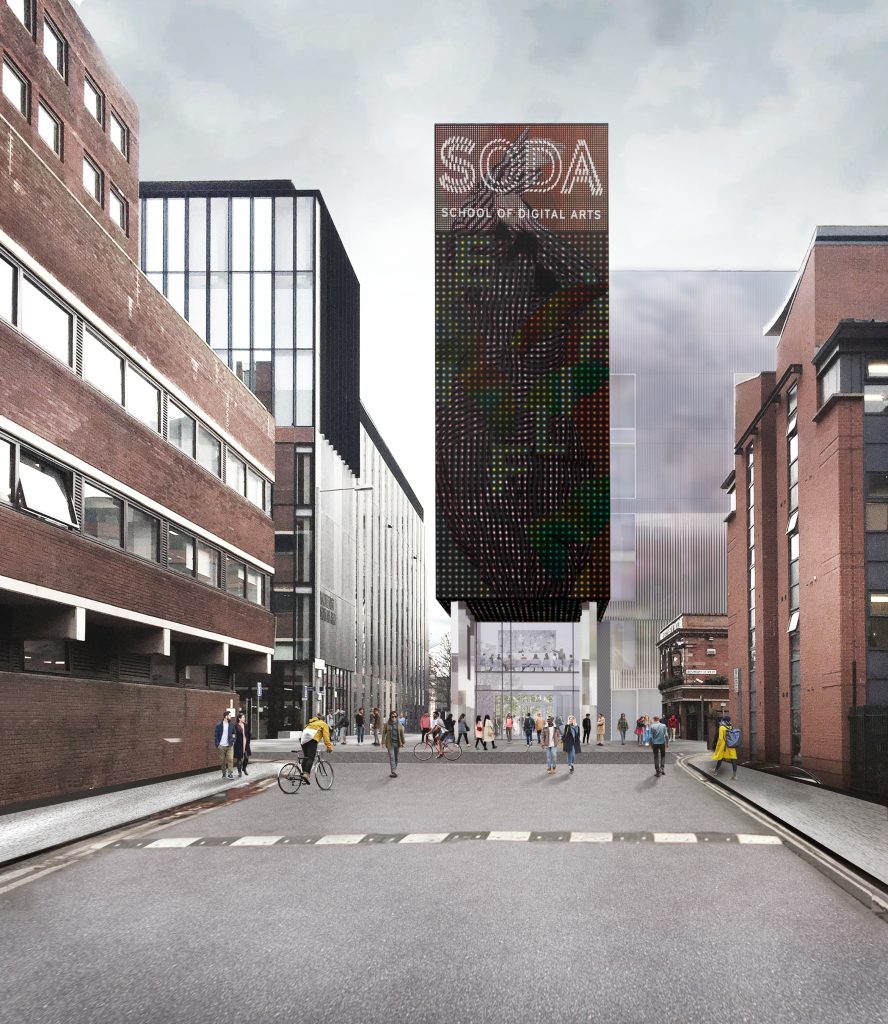 "It will give Manchester a unique centre, unmatched anywhere in the country in its scope and ambition. SODA will sit alongside our School of Art and Manchester Writing School, forming a world-class centre for creativity, working with industry to develop skills, nurture innovation and enhance economic success."
Andy Burnham, Mayor of Greater Manchester said: "SODA is a big step towards fulfilling our ambition for Greater Manchester to be the UK's leading digital city-region. We are already a centre for creativity, and when you bring tech and creativity together as we will in this great new School, we are getting closer towards it.

"It's a sign of our confidence in the next generation of young people's talent. What we hope is that thousands of young people from here and from further afield come through this new School. We'll ensure that they can turn that creativity into their future career. SODA is a school designed specifically to address and invest in the needs of the next generation of young people.

"Manchester Metropolitan University is an institution of national and international repute, growing all the time and part of a thriving higher education sector in the city. The GMCA and the Greater Manchester Local Enterprise Partnership are proud to be making this investment into SODA, which will be great for our young people, the University, and the city."
Penny Macbeth, Dean of Manchester School of Art, said: "It is hugely exciting to see the stunning architectural plans for the SODA building starting to take shape. Alongside this, we are building the new SODA curriculum and developing an ambitious research agenda, inspired by the University's strengths in digital innovation, creativity and collaboration. We are looking forward to welcoming our first cohort of students in 2021."
Lou Cordwell OBE, Deputy Chair of the Greater Manchester Local Enterprise Partnership, and founder of Magnetic North in Manchester said: "In partnership with GMCA, the GM LEP is proud to invest £14.9m of the Local Growth Fund into the School Of Digital Arts, a purpose-built facility for one of the UK's leading modern universities.
"The Greater Manchester Local Industrial Strategy is our plan to deliver an economy fit for the future, with prosperous communities across the city-region and radically increased productivity and earning power. This project showcases one of the ways we can realise that vision: strengthening our creative, digital and media industries by generating the digitally skilled workforce of tomorrow.
"SODA reflects the scale of Greater Manchester's digital burgeoning digital sector and ambition as well as our ongoing commitment to inclusive growth. As is the Manchester way, the private sector will continue to play an integral role in ensuring that the city region's creative and digital sector continues to thrive and that drive a growth in opportunities for everyone."
Simon Doody, Partner at FCBStudios, said: "SODA is a future-facing school for Manchester Metropolitan University, which aims to provide facilities, support and a canvas for digital storytelling that is relevant to industry and groundbreaking in its outlook.
"From the outside a subtly textured façade is created from pleated metal panels which reflect the local context. It also echoes the nearby workshop building that this faculty had its conception in – keeping that exciting culture going in the new building has been a key driver to its look and feel. Internally, the building is designed to be highly flexible, providing spaces that will encourage collaboration, exhibition and community, and allow faculties to evolve as technology advances."
Oscar-winning director Danny Boyle and multi BAFTA award-winning producer Nicola Shindler co-chair the School's industry advisory board, helping to shape the School's curriculum and research to meet the needs of industry.
SODA is funded jointly by Manchester Metropolitan, GMCA and GMLEP, linking academic and research excellence with business and policy expertise to ensure that Greater Manchester, already the fastest growing UK tech hub outside London, becomes one of the world's most competitive digital cities.