Clowes Developments to bring new Lidl and Wickes stores to Long Eaton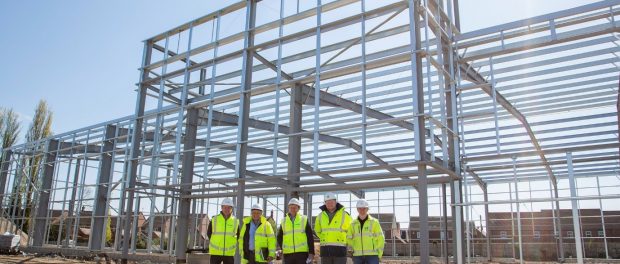 Work is underway on a new scheme in Long Eaton, Derbyshire, that will see the development of a new Lidl and Wickes store in the town.
IMA Architects (IMA) is working with Clowes Developments to provide all architectural services and act as Principal Designer on the scheme. The company will work alongside Millward Consulting Engineers and Roe Developments to deliver the site, known as Stadium Trade Park.
The 1.68-hectare Stadium Trade Park will be built on a brownfield former industrial site that has been derelict since 2014, located just off Nottingham Road.  Completion is expected next year and once finished, the site will feature a new Lidl and Wickes stores, car parking for 157 vehicles, a service yard and all associated boundary treatments and landscaping. The site will also bring new employment opportunities to the area.
Marc Freeman, Director at Clowes Developments said: "We are delighted to welcome both Wickes and Lidl GB to Stadium Trade Park. The site has been in the planning stage since 2018, so it's great that we are now up and running on the build. We expect both the new Lidl and Wickes stores to be very popular with the local community once they are complete and bring economic benefits to the town."
Joe Travers, Associate Director at IMA Architects said: "This is our latest project with Clowes, and we are enjoying regenerating this site which has been derelict for so long. Given the close proximity of residents, we have been considerate to their needs and our plans include additional landscaping, boundary treatments and acoustic mitigation measures to improve aesthetics and to ensure the scheme does not adversely impact local people."
Sarah Tait, Property Director at Wickes said: "We're thrilled to be expanding our Wickes store in Long Eaton, Stadium Trade Park.  The masterplan of the site and the fact that we can be involved in the design stage meant we could develop a location that perfectly suited our needs, and we are looking forward to opening the store in early 2024."
Lidl GB's Regional Head of Property, Dominic Bryan, commented: "We are delighted to be part of this development and looking forward to bringing our high-quality produce at the best possible value to those in the local community."
Clowes Developments is one of the UK's largest and strongest privately-owned property investment and development organisations. Headquartered in Ednaston, Derbyshire, the company are experts in land acquisition and promotion, property development and asset management, with 18,000 consented residential plots and 3,000 acres of development pipeline across the UK.
IMA is an award-winning firm of architects based in Blaby, Leicestershire. The firm has completed more than 200 projects nationally and is actively working on 75 large-scale projects across the UK, Ireland and further afield.
IMA works across all sectors and with a range of FTSE 100 companies – such as Marks & Spencer – as well as global brands including an international discount supermarket retailer. The company is a proud Community Partner of Leicester City Football Club and a sponsorship partner of both Leicester Tigers RFC and Leicestershire County Cricket Club.