Carlisle Steel Firm Donates Thousands To Charity To Mark 10 Year Anniversary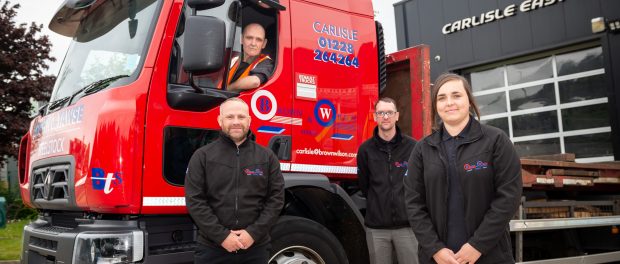 Cumbrian steel titans Brown & Wilson Steels have celebrated their tenth year of business in Carlisle by donating thousands of pounds to two deserving charities. Despite the Coronavirus pandemic, the firm has experienced a successful and busy past twelve months as well as a successful decade serving the construction industry in the Northwest and beyond.
The company decided to donate £2,500 to the Fire Fighters Charity and £5,000 to Carlisle and Eden Mind from company profits, presenting cheques to both charities last week in Carlisle.
Ian Harding, managing director of the Steelstock UK Group, who own Brown & Wilson Steels said: "We are delighted that our Carlisle depot of Brown & Wilson Steels, based at Cardewlees, is celebrating its 10th anniversary this year. Since its creation in 2011, the depot has grown year by year due to the excellence of its customer service and responsiveness to customers requirements. We are so proud of what the team at the depot have achieved and we are proud to have donated such vital funds to these important charities."
The team at Carlisle, led by Rob Anderton and Lucy Cottier are supported by the resources of the Steelstock UK Group, allowing customers of the depot, to have access to all types of quality-assured steel products from UK, EU and worldwide producers.
Team member Lucy Cottier added: "Both of the charities that I put forward carry out amazing work in the local community, both are very close to my heart. I'm proud to be part of a company that have donated funds to these charities. This was a great way to celebrate our 10th anniversary."
A tough past 18 months for charities, is something Micahel Boaden from Carlisle Eden Mind can echo: "As with all Charites the last year has been very hard and we are finding that demand for our services is increasing all the time so the fact that a local company has thought of us and made such a significant contribution to our work is fantastic. We rely heavily on fundraising and donations to meet our objective of making certain that nobody in this area has to face a mental health issue alone.
"Every penny given will be used to aid this work. Thank you to everyone at Brown and Wilson Steels for their kindness and support. We are so very grateful for the very generous donation from Brown and Wilson Steels Carlisle."
Mike Clusker, Station Manager Service Delivery at Cumbria Fire & Rescue Service said: "We are extremely grateful to accept this generous donation on behalf of the Fire Fighters Charity. It has been a tough year for many charities, as many of the usual fundraising events have been unable to go ahead due to Covid. This donation will go towards the services provided by the charity in the incredible work that they do looking after the physical and mental wellbeing of UK fire and rescue workers and their families. Thank you, Brown & Wilson Steels." Cumbrian steel titans Brown & Wilson Steels have celebrated their tenth year of business in Carlisle by donating thousands of pounds to two deserving charities."