Build Safety into Your Site with SafetySigns4Less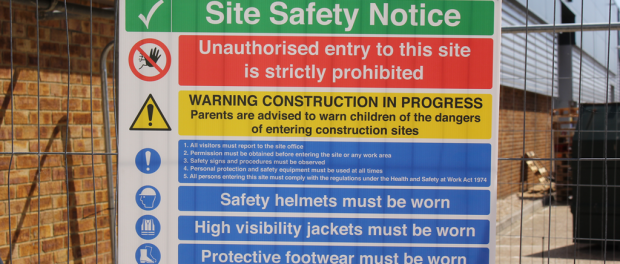 As you know working in the construction industry, safety is paramount. With heavy machinery, high-risk activities, and potential hazards at every corner, clear communication of dangers and risks is vital in maintaining a safe and secure working environment.
At SafetySigns4Less, we are committed to providing the widest range of signage, in the best possible quality, at the lowest possible prices. We're one of the UK's leading safety sign manufacturers, providing a comprehensive range of high-quality, durable safety signs at prices that will make your budget breathe easy.
The SafetySigns4Less Difference
SafetySigns4Less sets itself apart as a trusted partner for thousands of businesses across the UK. Our commitment to three core values – exceptional quality, unbeatable affordability, and first-rate customer service – underpins everything we do, and allows us to give you the best possible service and products.
Outstanding Quality: All our signs are manufactured right here in the UK to the highest quality, whilst complying with EN ISO 7010 as well as UK and EU legislation.
Unmatched Affordability: We believe quality and affordability aren't mutually exclusive. By eliminating the middleman and manufacturing in-house, we transfer the savings directly to you, helping your budget stretch further; without sacrificing the quality of your signage.
30-Day No Quibble Guarantee: We stand firm behind the quality of our products, so if you're not completely satisfied, simply return your purchase within 30 days for a full refund with our "No Quibble Guarantee".
Free, Fast Delivery: We offer free, fast delivery on all orders over £25(ex. VAT) to mainland UK, making it even easier and cost-effective to ensure your construction site is compliant and safe.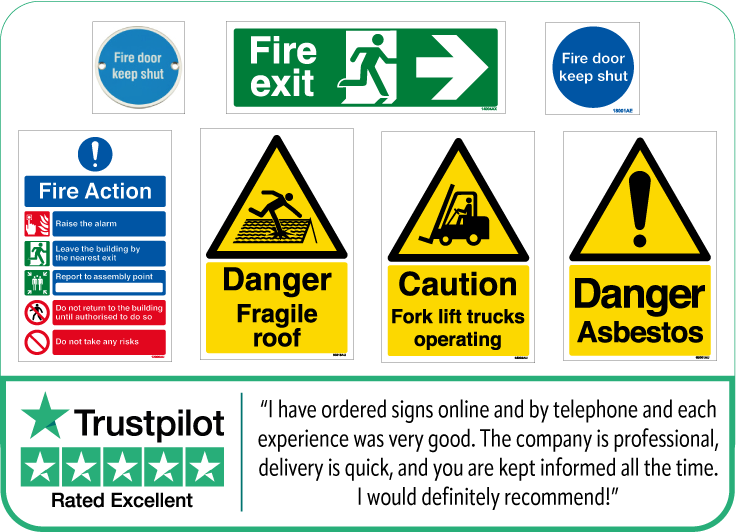 Safety Signs for Every Site, and for Every Stage of Your Build
Safety signs play an indispensable role in construction sites, communicating key safety information, marking hazardous areas, and guiding employees and visitors. Our extensive range covers every safety sign you'll need, from the start of your build, all the way through to the end…
Site Safety Boards: Required from day one of a build, these multi-message signs comprehensively list several safety instructions at site entrances, making sure staff and visitors are aware of your site's safety procedures and requirements.
Hazard Warning Signs: Ideal for positioning around your site where notable hazards and dangers are present, such as people working overhead, forklift trucks operating in the area, or exposed electrical wiring.
Prohibition Signs: Assist in restricting access to certain areas or activities that could pose a danger in certain areas of your site, such as no smoking areas or zones where naked flames are not allowed due to explosive risk.
Mandatory Signs: Vital signs that reinforce the need for protective equipment to be worn to protect against notable injuries, such as wearing hard hats, hi-vis clothing, or eye and ear protection.
Fire Safety Signs: One of our best-selling ranges, fire safety signs are necessary for any build at any and every stage. From emergency exit signs to fire door signs and fire assembly signs, making sure everyone on your site is always aware of your fire safety procedures can help ensure a safe evacuation in a fire emergency.
Here at SafetySigns4Less, we also have a huge variety of innovative and new ways to display safety signs and information. One example of this is our range of Talking Safety Signs, which present their safety message visually and audibly – so they are impossible to ignore and catch your attention in high-risk areas.
Not Just a Sign Company…
Despite the name, we don't just deal in signs!
As part of Value Products Ltd, we are also able to provide a huge range of other safety essentials, such as PPE, hi-vis clothing, custom signs, first aid supplies, fire safety products and facilities and management aids. So, if you can't find everything you need with us, one of our sister companies will cover you, with the same excellent level of service and quality of goods. Check out all the Value Products Ltd sites here > https://www.value-products.co.uk/.
Build Your Safety Signs for Your Sites
We understand that every construction site is unique, and poses its own hazards and risks, which standard signs sometimes might not give enough information on.
But don't worry! Here at SafetySigns4Less we also offer a custom sign service. You can choose to check out our website and use our comprehensive DesignASign builder to create your signs online in 5 simple and easy steps. Or, if you require something a bit more complex, or have any questions, call our expert team on 0808 1699 147, email at sales@safetysigns4less.co.uk or use our live chat on our website to get straight through to one of our incredible customer service agents.
Whether it's as simple as adding your company's brand to your signage or designing and creating a brand-new sign specific to your worksite, we have the capabilities, knowledge, and experience to help you get exactly what you need.
With thousands of 5-star reviews on Trustpilot, we have many happy customers that can speak for us!
To check out the full range of products we offer, visit our new and improved website at safetysigns4less.co.uk or contact the team on 0808 1699 147 or email sales@safetysigns4less.co.uk to discuss your site's safety sign needs!