Big Red Construction joins forces with the Big Brew to tackle industry's mental health crisis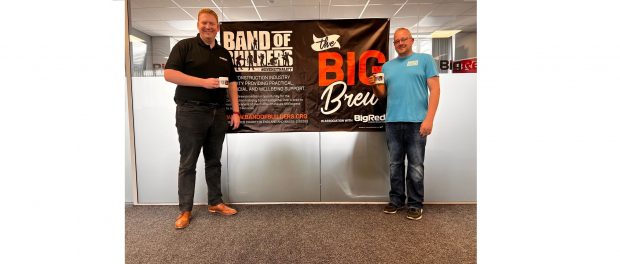 One of the UK's fastest-growing construction companies has thrown its weight behind this year's campaign to encourage more tradespeople and contractors to seek help with a range of issues – from depression to suicidal thoughts – as part of a bid to tackle the mental health crisis that is affecting the UK construction industry.
Huddersfield-based Big Red Construction has become the headline sponsor of this year's Big Brew campaign, which encourages construction industry workers and tradespeople to come together over a cuppa to support one another and remove the taboo around mental health in the sector.
Big Red Construction was only founded just over five years ago and already has an order book of more than £20m of projects where it is either a principal contractor or a main contractor. It sees supporting the Big Brew as "absolutely vital" for the UK construction industry, where the suicide rate of workers is estimated to be as high as two people every day. UK construction sector workers are nearly three times as likely to die by suicide than their counterparts in other industries.
Speaking about the tie-up, Mike Lomas, Managing Director of Big Red Industries, praised the trailblazing work of the Big Brew and said that Big Red Construction was proud to be a supporter of a "brilliantly simple" campaign that aims to tackle such a systemic issue with a cuppa.
"Through partnering with Band of Builders on this remarkable campaign, we hope to not only increase awareness of the mental health support services that are available but to also encourage other construction companies to join us in being part of the change. Big Red, Big Change," said Mike.
"It is our key focus at Big Red to support all our construction workers, as we recognise the impact that not having the correct support or tools in place can have a detrimental impact on those who may be struggling with their mental health and day to day life. It's absolutely vital that individuals, businesses and the industry at large do all they can to tackle this crisis.
"We are supporting this year's Big Brew because it's a brilliantly simple idea to encourage tradespeople and contractors to have a quick timeout over a cuppa and check in with colleagues and friends to just see if they're OK."
Mike added that a key reason why Big Red Construction is throwing its support behind the campaign is because it wanted to be a driving force in the continued momentum of the Big Brew.
He said:
"We have been impressed with the way that the Big Brew has tackled the mental health crisis in construction head-on; how it has got the industry talking; and how the first Big Brew raised enough money to fund a new, free, construction industry-only counselling service for two years."
Peter Cape, the Big Brew lead at Band of Builders, said that this year more than 300 Big Brew events are expected to be hosted – mainly on construction sites and at builders' merchants – this October, and the campaign is timed to coincide with World Mental Health Day.
"We are delighted that Big Red Construction has been so eager to come on board as a sponsor of the Big Brew and support a campaign that not only shines a light on the mental health crisis within the construction industry but has also put lifelines in place – such as our free counselling service and our new text line (text BOB to 85258) – that tradespeople, contractors and their families can use at any time," said Pete.
"The most effective way to start turning the tide on this is to get tradespeople and contractors talking, and this year we are introducing a tea scale as one way to start conversations – with images of different strengths of a cuppa. So, we are asking tradespeople 'where are you at on the mental health tea scale?'"
Pete added that at a time when the suicide rate of UK construction workers is estimated to be as high as two people every day, and UK construction sector workers are nearly three times as likely to die by suicide than their counterparts in other industries, it's important that the industry comes together.
"We are proud that the Big Brew is gaining genuine momentum – particularly through the support of organisations such as Big Red Construction – because it means we can reach out to more tradespeople and construction workers who may be in crisis," he said.
There's still time to register interest in hosting a Big Brew event at https://bandofbuilders.org, and you can join in the conversation online by using the hashtag #GiveYourselfABreak.