BEWI showcases the future of housebuilding at UK Construction Week – Stand No. B172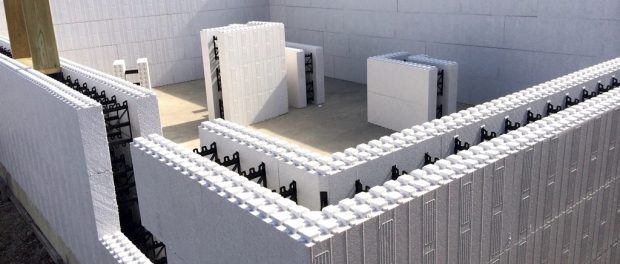 Come on to BEWI's stand at UK Construction Week and find out how sustainable houses of the future will be built.
BEWI building systems include the ICF system THERMOMUR® and the insulated concrete raft system JACKODUR® ATLAS. They enable the rapid construction of highly thermally efficient buildings, with market leading air tightness and excellent acoustic insulation.
These systems are revolutionising sustainable house construction in the UK. The JACKODUR® ATLAS Extruded Polystyrene (XPS) insulation and formwork system is for floor slabs, while THERMOMUR® is a robust pre-formed wall block with a hollow core manufactured with Expanded Polystyrene (EPS). The empty core is filled with a concrete pour during construction.
When planning a new bathroom or modernising old bathrooms, ideas can be implemented easily and safely with the JACKOBOARD® construction boards, which are the ideal substrate for all types of ceramic, porcelain, or natural stone tiles. Thanks to their extruded polystyrene foam core and the special coating on both sides, the JACKOBOARD® construction boards are the ideal base for plaster and tile. The surfaces of the JACKOBOARD® system provide a strong primer and can be used on virtually any substrate. At the same time, they are water repellant, thermally insulating, light and sturdy.
BEWI designs its product range to help its customers move towards zero energy construction, whether they are building a house from scratch or just fitting out a new wetroom. We are experts in the manufacture of building systems, insulation, packaging and other specialist products made from expanded (EPS) and extruded (XPS) polystyrene, produced for the construction and other industries.
ICF is a modern construction method, which is widely used in Europe and North America, but is now rapidly growing in popularity in the UK as well. It integrates insulation materials into the concrete formwork, totally revolutionising the way a house is constructed.
Developers who use the BEWI systems particularly value the fact that within the THERMOMUR® range, BEWI has developed a unique high density EPS cavity closure of a sufficient density to allow doors and windows to be fixed directly to it – thereby eliminating cold bridging. The speed of a build programme using the BEWI products is made possible by the integration of the building components and a reduction in the need for extra onsite labour, especially in comparison to timber frame.
As well as being easier and quicker to build, an ICF house provides considerable advantages during the life of a building. The benefits include: dramatically improved insulation and air tightness leading to reduced expenditure on heating or cooling; excellent acoustic performance; fire resistance; enhanced resilience to flood, extreme weather and seismic activity; rot and vermin resistance; versatility with regard to remodelling; minimal maintenance requirement; mortgage, insurance and planning acceptance.
At BEWI all surplus materials are recycled from production to new raw materials and new products.
Guided by the vision of leading the change towards a circular economy, we strive to offer you the sustainable, low energy future of construction.
For more information visit: www.bewi.com