Balfour Beatty VINCI begins new partnership with STEM Returners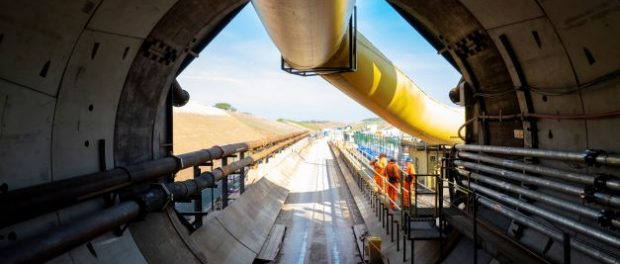 Balfour Beatty VINCI (BBV) has launched a new partnership with STEM Returners to help STEM professionals return to work after a career break.
BBV, a joint venture between Balfour Beatty and VINCI is HS2's construction partner for the West Midlands.  As part of their continued drive to enhance inclusion and invest in people, the organisation will offer a STEM Returners programme for a CAD Technician, Performance Reporting Manager, Site Engineer, and other roles to work on the West Midlands section of HS2's Phase One route. This section spans around 90km from Long Itchington in Warwickshire to the centre of Birmingham and on to Handsacre in Staffordshire.
STEM Returners will source candidates for the programme, which aims to return or transfer STEM professionals back into industry following a career break. The fully paid placements act as a 'returnship', allowing candidates to be re-integrated into an inclusive environment upon their return to STEM.
Natalie Desty, Director of STEM Returners, which is based in Hampshire, said:
"Vacancies in the construction sector remain high as demand for workers continues to outstrip supply. But there is a hidden workforce that are overlooked because they have a gap on their CV. We are very proud to be entering this new partnership with BBV, to return highly skilled people back into the industry they love. Only by partnering with industry leaders like BBV, will we make vital changes in STEM recruitment practices, to help those who are finding it challenging to return to the sector and improve diversity and inclusion."
The STEM Returners programme is BBV's latest drive to enhance equality and diversity across their sites. BBV has recently achieved Gold standard for ED&I (equality, diversity and inclusion) from Clear Assured, a global inclusion standard.
Balfour Beatty VINCI Internal EDI Partner, Chloe Chand, said:
"We value each employee and the individual experiences they bring to create an inclusive culture. We are proud to be working with STEM Returners to run a programme which will see those who have taken a career break be welcomed into BBV to apply their knowledge and experiences across our project.
"We recognise that the development of skills can be obtained beyond the workplace and transferred to provide diversity of thought so that our employees can continue to improve, grow and evolve in their roles."
Annual research from STEM Returners (The STEM Returners Index) has revealed the challenges people who have had career break face, when trying to return – recruitment bias being the main barrier to entry. Sixty-six percent of STEM professionals on a career break said they are finding the process of attempting to return to work either difficult or very difficult and that nearly half (46%) of participants said they felt bias because of a lack of recent experience.
STEM Returners' programme aims to eliminate these barriers, by giving candidates real work experience and mentoring during their placement and helping them to seamlessly adjust to life back in work.
Whilst the scheme helps solve the challenge of sourcing talent in sectors that need it, it also has the added benefit of increasing diversity in a host organisation. STEM Returners' population of experienced professionals who are attempting to return to work are 46% female and 44% from ethnic minority groups, compared to 14% female and 9% from ethnic minority groups working in industry.
Since STEM Returners first launched in 2017, more than 310 STEM Returners candidates have joined programmes across the UK. To view STEM Returners opportunities, visit https://www.stemreturners.com/placements/.