Balfour Beatty completes £28.5 million Dundee Railway Station and Hotel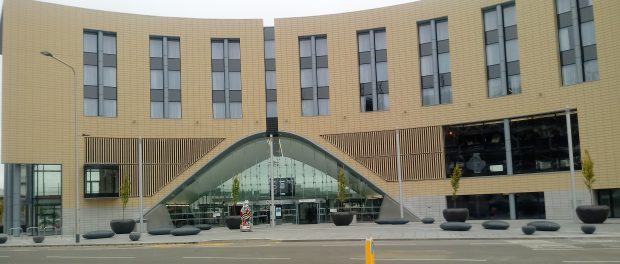 Balfour Beatty, the international infrastructure group, today announces that it has successfully completed works to the £28.5 million Dundee railway station, on behalf of Dundee City Council.
Balfour Beatty utilised its extensive experience in the construction of complex projects on a live, operational railway, to deliver a new station and concourse, hotel development and associated retail facilities with minimal disruption to train services.
As part of the works, Balfour Beatty erected a 2600 tonne steel frame with another 500 tonnes of metal bridge beams, the longest of which was 38.5 meters. Balfour Beatty's workforce worked through the night to support the build and installation, ensuring minimal disruption to the rail interface and travelling public.
The new railway station forms a part of Dundee City Council's regeneration programme, aiming to create a strong and sustainable city economy that will raise the quality of life and improve the local environment.
Hector MacAulay, Managing Director of Balfour Beatty's regional business in Scotland and Ireland, said: "The completion of the new railway station and hotel marks a significant milestone in the exciting regeneration of Dundee.
"At project outset, we committed to making a real and sustainable contribution to the local economy and have worked closely with the Council to generate 58 local employment opportunities and 10 apprenticeship positions, with 100% of local applicants guaranteed an interview.
"We look forward to furthering our relationship with Dundee City Council as the transformation of Dundee continues."
Joe FitzPatrick, Minister for Public Health and Sport said "The revitalised Dundee Station creates a gateway to the city and is an excellent example of how the industry can work in partnership with the public and private sector to deliver to wider regeneration goals. It is also delivering additional benefits through significantly increased cycle facilities, providing cycling capability to all parts of the Waterfront Development. The investment in this station is just one part of our efforts to build the best railway Scotland has ever had. We look forward to the delivering more services and more seats in the north east making rail travel even easier, bringing with that benefits for communities, business and tourism alike."