Apartments launch is music to the ears of home-hunters in Hayes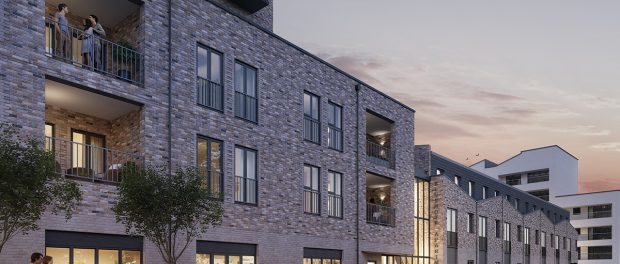 A new homes development in a prime location in Hayes is set to launch its first phase to the public on Saturday 25th July.
Five-star housebuilder Bellway London is launching the sales office and the first phase at Bluenote Apartments, which can be visited via appointment only, with a two-bedroom show apartment set to launch in September.
Bluenote Apartments will comprise a collection of one, two and three-bedroom homes located off Blyth Road – next to the Old Vinyl Factory, which occupies the site of the former EMI headquarters and influenced the Bellway development's name.
In total, 111 apartments will be built at Bluenote, with 77 properties being sold privately by Bellway London.
Sales and Marketing Director for Bellway London, Greg Allsop, said: "It is always an exciting time when we launch a new development, but even more so when it's a development that's as keenly awaited as Bluenote Apartments.
"The anticipation from home-hunters is partially down to the site's prime location and excellent transport connections, just a short walk from Hayes and Harlington Station – which with the arrival of Crossrail, which is heralded to cut commute times in half – will link to both Heathrow and Canary Wharf via the Elizabeth Line.
"We are delivering a wide range of high-specification apartments with many desirable features, which include individual balconies and terraces with every property, a concierge service, a central courtyard garden and proposed south-facing fourth floor roof terrace.
"Visitors to Bluenote Apartments will be welcomed by our sales team from 25 July, by appointment only, so we'd encourage those interested to please call ahead and book an appointment to see us in person. The same message applies for when we open the doors to our new show apartment in September."
Bluenote Apartments will also include a ground floor car park with allocated spaces for residents and 330 sqm of commercial space, while 41 properties are to be made available as affordable housing, including 34 shared ownership apartments and seven low-cost rental townhouses.
Bellway has a five-star rating with the Home Builders Federation (HBF) as more than nine out of ten customers said they would recommend the housebuilder to a friend in the HBF's National New Homes Customer Satisfaction Survey.