£11m contract sees leading building company go back to school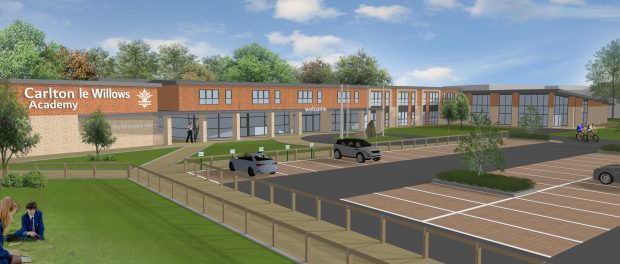 LEADING East Midlands contractor Clegg Construction is going back to school after winning an £11m contract to expand the facilities at Carlton le Willows Academy in Gedling, Nottinghamshire.
Phase one of the project, which gets underway this month, will see the business build and fully fit out a new, two-storey building on the campus called the South Block.
Once completed, this will pave the way for phase two – an extensive internal refurbishment of some of the school's existing facilities.
The work will lead to the creation of 29 new classrooms, a new main assembly hall, kitchen canteen and dining areas, and a catering pod that will be used to serve other areas of the school.
It will create capacity for a further 400 extra students at Carlton le Willows, as well as giving all young people who attend the school access to brand new, state-of-the-art learning facilities.
Sam Parker, Contracts Manager for Nottingham-based Clegg Construction, said the business was proud to be working on a project that would help more local children get access to a first-rate education.
Clegg Construction has a long track record of delivering award-winning educational projects across primary and secondary schools and universities and has previously worked with Carlton le Willows since 2005 to create science labs, a resource centre, a music and drama extension, refurbish a library building, and build a Sixth Form centre complete with an ICT room and two teaching rooms.
Mr Parker said: "We are always excited to work in our home county and we're particularly pleased to have been appointed to deliver this fantastic and worthwhile project.
"Carlton le Willows Academy is a thriving, successful school providing first class education services to young people in the Gedling area of Nottingham. This project will not only extend the learning facilities to the existing student body, it will also enable hundreds more students to benefit from everything the school has to offer.
"Being involved in this project is therefore a real source of pride for us."
The building, which will be constructed from brick that aligns with the existing school buildings, will link the East and West Blocks of the school and will be served by a new access point on Burton Road.
It will also feature a range of smart technology to ensure the long-term sustainability, including optimising natural light and using low energy lighting throughout the building, natural ventilation and cooling, underfloor heating, and six electric car charging points in the 94-space car park.
A sustainable drainage solution will also be installed as part of the ground works, which will include an attenuation tank aimed at avoiding any extra burden on the existing public sewers caused by rainwater.
Carlton le Willows Academy Headteacher, Craig Weaver, said: "We are absolutely delighted to be able to realise our long-held vision for Carlton le Willows.
"This new building will integrate our split site, providing brand new fit for purpose facilities.
"A major part of this project is also to repurpose part of the existing West building to improve the learning environment for students for years to come."
The architects on the project are Welham Architects, the quantity surveyors are GNA, and the structural engineers are Moran Structural Consultants Ltd.