Work starts at newest luxury Manchester apartment building, Vision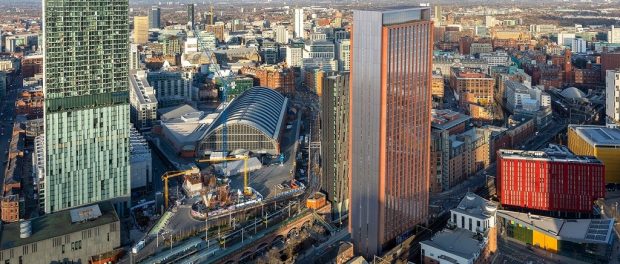 Manchester city centre's latest high-rise apartment building will soon start rising out of the ground as developer Vision Manchester LTD reports major groundwork milestones are underway on the 37-storey building.
The building's power supply has been installed and is fully operational. The drainage works package has also been completed and signed off by Building Control.
The Vision development, on Whitworth Street in west Manchester, has been designed by JM Architects and works are scheduled to be completed by 2026. The development boasts amenities including a gym, yoga and spin studio, cinema, workspaces, residents' lounge area and a concierge service.
Domis has been appointed to carry out the construction works, and a four-month period of enabling works is underway to bring the project out of the ground and see Vision begin to take its shape.
The tower is located in the heart of Manchester City Centre, including the important multi-million-pound First Street financial and leisure district which has been recently announced as the new Government Civil Service Headquarters which will bring 10,000 new jobs next to Vision.
Off-plan sales of the 327 one-, two- and three-bed apartments are already underway with Vision being brought to market by Alliance Investments who are acting as the master sales agent. The company has vast experience in Manchester and is confident of a sell out in advance of completion.
Ronald Garrett, Manging Director of Alliance Investments, said:
"Vision is the latest landmark tower in Manchester city centre and it is sure to be a popular destination for those who wants to live in the heart of it all.

"We are proud of our track record of delivering superb developments in Manchester and Vision is a fantastic addition to our portfolio"
Paul Strutt, director at DOMIS, said:
"Vision is set to be an impressive residential tower and we are delighted to continue with our success in delivering another flagship development for Manchester in this prominent location."
Get in touch with Alliance Investments expert team today to request full details about this outstanding development in Manchester +44 (0)161 6750 300.
BOILERPLATE:
As part of Property Alliance Group, the Alliance Investments team has a proven track record of marketing, selling and exchanging off-plan properties within several of the group's landmark buildings, as well as carefully selected new-build housing projects from other partner developers.
Headquartered in Manchester, Alliance Investments has established a reputation as a key contributor to the growth of the UK's top property location, a status that has given us the credibility to move into other key cities, all while maintaining the same high levels of quality that have become our trademark – both for people looking to purchase a home and those looking for off-plan investment.
To find out more about our latest UK property opportunities please get in touch with our team:
+44 (0)161 6750 300