Winvic Construction Appointed to Construct DIRFT III Intermodal Rail Freight Terminal for Prologis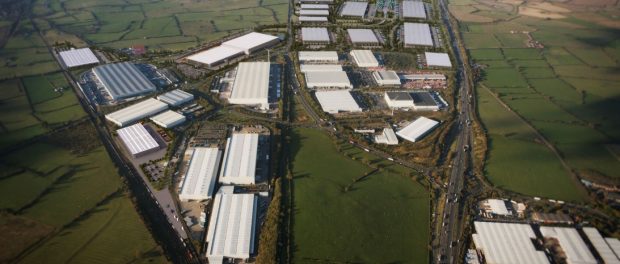 Winvic Construction Ltd, a leading main contractor experienced across all construction sectors has secured a £29 million contract to deliver a new state-of-the-art Intermodal Rail Freight Terminal at Prologis RFI DIRFT in Northamptonshire. The scheme forms part of Prologis' extension to its UK's premiere logistics park – DIRFT III – and comprises significant earthworks, 79,000m2 concrete terminal slab, 9km rail track networked to the existing terminal and the West Coast Mainline, and three complex bridges.
When completed in summer 2021, the terminal will be capable of receiving up to 24, 775m long trains each day and the concrete yard will provide space for the storage of approximately 460 containers. The Winvic design team and its consultants have designed the terminal slab to withstand the weight of containers stacked four high and loaded to 21 tonnes each; circa 30,000m3 of stress resistant, fibre reinforced concrete will be used and the surface will be engineered to efficiently manage extensive reach stacker operations. Winvic will be constructing the five-track, 800m long siding and installing a Rail Traverser. This specialist equipment – which moves trains perpendicularly from one track to the next – is rarely used on UK railways, but it allows the terminal length to be shorter as a head shunt isn't required.
The Winvic team started on site at the beginning of June and have last week completed the earthwork re-engineering of the plateaux, which although had been created circa four years ago, had suffered weather degradation. This bulk-earthworks programme has comprised approximately 60,000m2 of cut and fill works and 40,000m2 of sub-base has been positioned in preparation for the pouring of the concrete slabs, taking place the week commencing 17 August. Two live camera feeds of the project can be viewed on Winvic Live.
Extensive liaison has already taken place with Highways England (HE) and the Environment Agency (EA), and Winvic will continue to engage throughout the project due to the installation of a bridging structure over the Clifton Brook Tributary and an integral bridge spanning the A5, 2km north of M1 J18. The new railway link bridge, which will carry two tracks, will have an effective span of 30m over the highway. It is a fully integral, single-span, prestressed concrete structure seated on a continuous flight auger piled foundation with reinforced earth abutments and wing walls, formed of a composite system of interlocking prefabricated concrete units with soil tensile reinforcement and backfill.
The two train lines will also traverse the Clifton Brook Tributary and the bridging structure solution has been designed with EA input to give wildlife unimpeded access to sensitive ecological areas. It will be a 45m long precast arch, using the Matiere System, with 34 bored piles, each 25m long, and precast wing walls. To maintain the utmost water quality and ensure habitats are minimally disturbed during construction Winvic is working closely with the EA, and a number of mitigation measures will be undertaken. This includes the temporary diversion of the tributary, utilising both pipe culvert and diversion channel methods.
The third bridge that Winvic will be constructing within the DIRFT III Rail Freight Terminal project diverts the existing bridleway up and over the new railway lines. With a clear bridge span of over 18m and a deck 5.5m in width, it is a fully integral single span composite prestressed and reinforced concrete (RC) structure. The deck is to be composed of prestressed concrete beams with an in-situ reinforced concrete deck slab that is integrally connected with abutments seated on spread foundations.
In addition, Winvic will be delivering a number of other scheme elements:
1600m of embedded rail
Rail Terminal Building
Gatehouse
5km of rail troughing and ducting
21000m3 of ballast
Over 10km fencing and barriers
2,500m of drainage
20 mast lights
Winvic's Civils and Infrastructure Director, Rob Cook, commented: "We are thrilled that Prologis recognised our experience in the construction of rail freight terminals as well as our commitment to positive and productive liaison with key stakeholders like HE and the EA. Not only is the plot between the M1 and A5 vast – totalling 344 hectares – but many elements of the scheme are complex and require specialist knowledge; from the diversion of and care for the local tributary and its wildlife to constructing adjacent to a live and busy highway. The bulk earthworks have now been completed and we are very much looking forward to starting the terminal slab construction next month.
"Winvic has been delivering civils and infrastructure projects for as long as it has been operational, but many works packages have been part of turnkey solutions, enabling industrial, commercial and multi-room developments. With my recent appointment and the strengthening of Winvic's standalone C&I track record, now is the time for us to be more vocal about the company being a premiere main contractor in the sector, and this exciting contract win certainly illuminates our robust position in the competitive C&I arena."
David Mellor, director, project management at Prologis UK, said: "Undertaking this national infrastructure project, of this scale, at DIRFT will bring a significant boost to the UK's rail freight network. At a time where the UK's roads are becoming busier than ever, rail freight offers businesses the opportunity to create even more resilient, efficient and sustainable supply chains.
"Aside from allowing companies to quickly deliver stock across the UK, each freight train leaving DIRFT takes 76 HGVs off the road, helping to cut traffic and reduce the release of harmful environmental emissions. This, together with the fact that there are significant operational cost savings by being located near to the rail terminal, makes DIRFT the compelling opportunity for our customers.
"The benefits of the capacity increase offered by the new rail freight terminal at DIRFT will be felt across the country. With HS2 recently being given the go-ahead by the Government, there will be more opportunity than ever before for UK companies to tap into the rail network to deliver their goods up and down the country.
"DIRFT is one of the greatest logistics success stories of our time. Its location, connectivity and facilities make it the first choice for any business that is serious about moving freight on the rails. Getting the green signal to push forward with this major-scale infrastructure project, which will benefit the whole of the UK, is a significant milestone for Prologis and we're delighted to be working with Winvic as our construction partner on this project."
See https://prologis.co.uk/parks/prologis-rfi-dirft/ for more details on Prologis RFI DIRFT.
For more information on Winvic, the company's latest project news and job vacancies please visit www.winvic.co.uk. Join Winvic on social media – visit Twitter @WinvicLtd – and LinkedIn.