Willmott Dixon lands Lincolnshire Public Sector Hub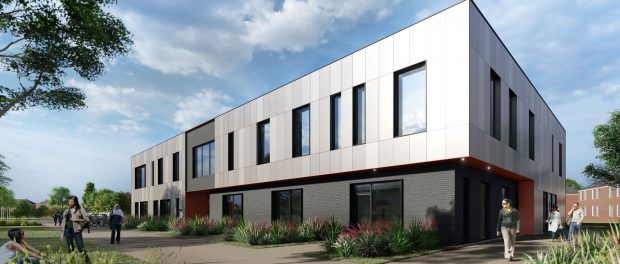 Willmott Dixon continues to expand its presence in Lincolnshire after being appointed to deliver a new Public Sector Hub facility in Horncastle that will also provide new college space.
The £7 million Public Sector Hub is one of the town's most significant developments to date and will become East Lindsey District Council's new headquarters alongside providing further education space for Boston College.
Procured using the Scape National Major Works framework, the shared space, which is due to complete in summer 2022, will allow the council to relocate from its current headquarters in Manby in order to streamline services and reduce its maintenance costs and carbon footprint. Alongside the benefit of being housed in a more sustainable building, the council's move to Horncastle places it at the heart of the district.
Nick Heath, director of delivery at Willmott Dixon, said: "We're very pleased to be given the go-ahead to help East Lindsey District Council create a new headquarters and further education facility that aligns with its environmental targets and also represents long-term savings on its current outdated facility."
To support its 2030 'Now or Never' sustainability strategy and reduce carbon emissions, Willmott Dixon will be implementing its Energy SynergyTM approach to ensure the building's performance when operational matches that targeted at design stage. This will see the company's energy performance specialists work alongside East Lindsey District Council to measure how the hub is performing over a period of time when occupied.
Nick added: "As well as helping to support the council in its battle against climate change, the new hub will develop the partnership between the council and Boston College by delivering long-awaited further education facilities to the local area, enabling learning for future generations across the region.
Throughout the project, Willmott Dixon will ensure 14% of the contract value is invested back into the region. This will be delivered through community initiatives, such as projects with local university students, careers events with Boston College, as well as using local social enterprises, local businesses and local labour.
Neil Cucksey, strategic capital project development officer, at East Lindsey District Council, said: "We're pleased to be working with Willmott Dixon on bringing the Public Sector Hub to fruition. As well, as providing modern office space for ourselves and our partners, we'll be bringing a landmark further education facility to the district. The commitment Willmott Dixon has made to supporting the local community and economy throughout the build is fantastic and something we'll look to build on as we take up occupancy next year."
Architect Bond Bryan worked alongside the council and Willmott Dixon to design the cost-effective, sustainable build. James Woodhouse, associate director, at Bond Bryan, said: "We are delighted that the Public Sector Hub project is starting and look forward to continuing our collaborative relationship with Willmott Dixon, East Lindsey District Council, Boston College and the design team.
Mark Robinson, group chief executive at SCAPE, said: "The new college and Public Sector Hub will not only bring economic benefits to the area but will also support East Lindsey Council's sustainability agenda.
"At SCAPE we're proud to play a part in accelerating the delivery of sustainable buildings that will help to ease the climate emergency. We're pleased that the students from Boston College and our public sector colleagues will be housed in a state-of-the-art eco-friendly building as we work together as a nation towards our 2030 net-zero target."
The project marks the latest in a long-standing service to Lincolnshire. Since 2017, the company have delivered an £11m social return on investment, spent over £56m with SMEs and committed more than 7300 hours to support young people into employment.
Projects completed recently by Willmott Dixon in the county include Lincolnshire Blue Light Campus in Lincoln, Boole Technology Centre, Lincoln Transport Hub and Lincoln University Technical College. It was also selected by Lincolnshire County Council this year for a programme to enlarge three schools as part of the county's wider SEND (Special Educational Needs and Disabilities) school programme.