Willmott Dixon awarded West Sussex fire service training centre and fire station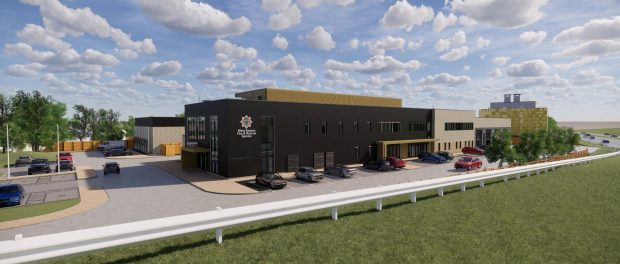 Willmott Dixon has been selected by West Sussex Fire & Rescue Service on behalf of West Sussex County Council to deliver a state-of-the-art fire service training centre and fire station.
It's the latest in a series of 'blue-light' projects for the company and follows the handover last month of a new HQ for Merseyside Police in the centre of Liverpool.
The scheme in Horsham was procured using the SCF framework and will be the first of its kind in West Sussex, providing a highly modern working environment for fire and rescue service staff, as well as a 24-hour operational fire station. 
Key features include a combined training tower and breathing apparatus facility, and a realistic live fire training area.  The high-tech premises will also include a residential element for new recruit training, an incident command training facility, realistic road traffic collision training area and rooms for digital simulations.
Sustainability is at the heart of the project, with a strong emphasis on renewable energy sources such as solar panels and air source heat pumps to provide heating, as well as electric vehicle charging points, in-line with the county council's drive to become carbon neutral by 2030.
West Sussex County Council Cabinet Member for Community Support, Fire and Rescue, Duncan Crow, said: "I am delighted that this project has been approved. The new development represents a significant investment in our fire and rescue service that will allow our firefighters the very best in training facilities. This benefits not only our firefighters, but also the safety of West Sussex residents." 
Chief Fire Officer, Sabrina Cohen-Hatton, said: "This is a fantastic commitment from the county council to the training and development of all of our staff, and one which is going to have an incredible impact upon our service. I cannot wait for work to begin to turn these plans into a fully functional fire station and training centre." 
Russell Miller, director at Willmott Dixon's Crawley office, said "We are looking forward to building a first-class training facility that supports the brilliant work of West Sussex Fire & Rescue Service.  With the focus on decarbonising property, renewable energy will be at the heart of this, keeping with our own sustainability objectives that all new buildings we deliver after 2030 should be net zero carbon in use." 
This is the latest blue light facility for Willmott Dixon.  The company is currently constructing a £18m custody suite for Bedfordshire Police alongside a £20m state-of-the-art control centre and operational support building for Humberside Police. 
As well as Merseyside's new headquarters, it was behind a new combined campus for Lincolnshire Fire, Police and Ambulance services and a Custody Centre and Operational Hub for Devon and Cornwall Constabulary in Exeter.