What to expect at Digital Construction Week 2022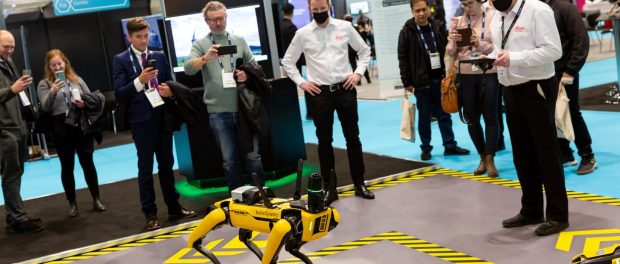 In just one week, Digital Construction Week (DCW) will return to ExCeL London to showcase ground-breaking technology and thought-provoking content from across the built environment sector. Over 5,500 professionals from around the globe are expected to attend DCW from 18-19 May, which remains the UK's only event dedicated to digital construction, engineering, design, manufacturing, and operation.
Across the DCW show floor, visitors can meet knowledgeable representatives from over 150 brands and get up close to the tools and solutions transforming the way we build. Furthermore, an impressive line-up of 300 experts will take to the stage across nine theatres to share their hard-earned insights and present pioneering projects.
DCW's co-founder and Event Director, Ollie Hughes, says, "We really can't wait to open the doors at this year's Digital Construction Week. It's been a quick turnaround since the 2021 edition of the show, but both the show floor and the programme are packed with the industry's biggest names. Nowhere else will you be able to see, hear and experience the future of the built environment all in one place."
Get hands-on with brand new technology
A vibrant mix of established brands and exciting start-ups can be found across the DCW show floor, giving visitors a head-start in the post-pandemic era to expand their professional network and secure new suppliers.
Several exhibitors will let visitors get hands-on with their freshly released kit. These include LoadSpring's ProjectINTEL, Fixie UK's Service Graphics 3D printing platform, GAMMA AR's new app, Procore's digitalisation strategies, ONE's Digital Twin environment, Nodes & Links' scheduling platform, Revizto's Integrated Collaboration Platform, Script & Go's Site Task web module and app, VisiLean's 4D Simulator, and xbim's Benchmark Digital Estimator.
Visitors can also get a front-row seat to the future of automation, with exciting live demonstrations of the Leica BLK2FLY, BLK2GO and BLK ARC, along with SPOT, Boston Dynamics' iconic agile mobile robot. And the Start Up Zone will showcase emerging brands with ambitious ideas that have the potential to tackle the most pressing industry issues.
Not only that, DCW visitors can win sought-after gadgets in prize giveaways, courtesy of HSS Training, Bluebeam UK and PlanRadar. Plus, refreshments are on offer for those who know where to look – Causeway Technologies will serve hot drinks and sweet treats throughout the show and xbim will hand out pastries and coffee at 10:30 each day.
Soak up ideas, information and inspiration
The seminar programme at DCW offers 120 hours of CPD-accredited keynote talks and interactive panel discussions. With each session free to attend, the DCW programme provides a golden opportunity for visitors looking to hone their industry knowledge.
This year, DCW is proud to launch three new stages, each one delving into the real-time challenges facing not only the construction industry but the entire planet. The Net Zero Stage, in partnership with independent industry group ZERO is putting sustainability at the top of the agenda, with in-depth sessions looking at how digitalisation and DfMA are improving performance and lowering emissions.
And the Information Management Stage will unpack the often-misunderstood shift from BIM to IM, sharing insights into product data, digital twins, interoperability, and other timely topics. In addition, the Information Management Exchange will host informal sessions where visitors can interact directly with the experts. And for those brave enough, DCW is running its very first open mic session – open to all visitors!
Network with like-minded professionals
At DCW, there are several opportunities to dip out of the action when respite is needed. One of which is the one-of-a-kind FULmax lounge – back by popular demand – which creates a virtual environment of impressive construction projects from around the UK.
Elsewhere, the Government and Industry Interoperability Group (GIIG) will host an event on code of practice for technology vendors. And representatives from the UKBIMA Technology Group and bsUKI, as well as several trade organisations will be on hand to answer questions.
And finally, DCW Drinks invites all visitors, speakers and exhibitors for an hour at the end of day one to celebrate the 2022 edition of the show. It's a great way to let off steam, chat with fellow professionals and check out any unseen interactive exhibits.
Ollie Hughes continues, "With so much innovation happening across the sector, trade shows like DCW offer a unique opportunity to gain industry insights first-hand, giving you the edge over your competitors. The atmosphere is always really friendly, so I invite you to come along, speak with people, and explore all that's new in digital construction."
Register now for DCW 2022
Digital Construction Week takes place at ExCeL London from 18-19 May 2022. Register for a free trade ticket at https://go.pardot.com/e/465882/eek22-aspx-TrackingCode-DCW300/3jrqky8/5107350787?h=DaTwF9VHVUhWTXcNPCBPN1yox-0u-5ES9TiiKAi2CaY