Two new appointments to boost customer support at Birtley group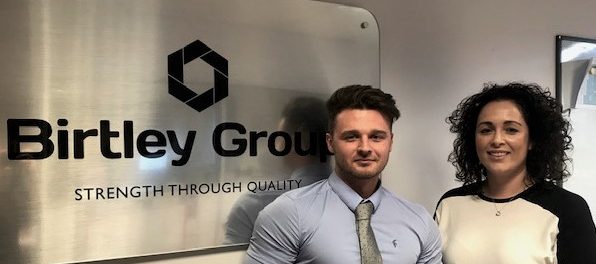 Birtley Group, the company behind some of the UK construction industry's most trusted names including Birtley Lintels, Expamet, Birtley Galvanizing and Bowater by Birtley has expanded its team with two new appointments.
Scott Mackrell, a university graduate with over six years' experience in the manufacturing sector, has taken on the role of Design Engineer at Birtley Lintels.
As a key member of the team, Scott has joined the department responsible for designing bespoke windposts and masonry support for projects across the UK.
Laura Carter joins Birtley Group as a Credit Control Assistant after 12 years of working for Nike's finance department. She brings to the role a wealth of experience working in customer accounts and will initially be responsible for Bowater's Door Sales Ledgers.
Both appointments will support the Group as it continues to grow and further improve customer service levels, whilst increasing efficiencies across all group brands.
"Having gained experience in a number of leading manufacturing companies, I was keen to secure a role that would allow me to develop the skills I acquired at university and put them into practice. Birtley Group offers an innovative and exciting environment to work in and I am learning every day," said Scott Mackrell. "As a leading name within the industry, I could immediately see that Birtley Group takes an uncompromising approach to quality and customer service. I am extremely pleased to be a part of the company and work alongside a fantastic team of professionals."
Laura adds: "I am very excited to be taking on this new role and joining a company that has a reputation for excellence. I look forward to using the knowledge and expertise I have gained over years to support Bowater by Birtley's customers."
Graeme Miller, Managing Director at Birtley Group, comments: "We would like to offer a warm welcome to Scott and Laura. As we continue to invest in our brands and the Group as a whole it is important that we bring in key team members, like Scott and Laura, that have the skills and expertise to support our growth and help us carry on championing UK manufacturing."
Birtley Group is home to Birtley Lintels, Bowater Doors, Birtley Galvanizing and Expamet. All four brands work side-by-side within the group, each continuing to develop and market its own well established range of products.
The overall Group structure brings widespread business efficiencies that allow the company to deliver even higher levels of customer service and market-leading value for money.
To find out more about the Birtley Group, visit: https://www.birtleygroup.co.uk/.