Western Thermal Limited secures contract at Wardian Project in London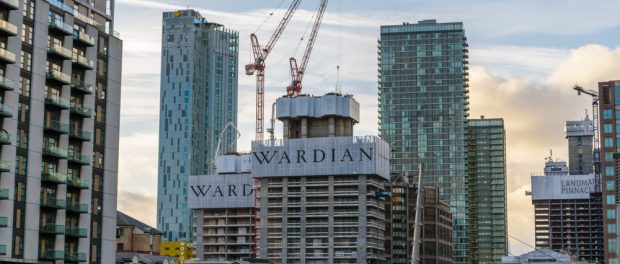 Western Thermal Limited, leading specialist thermal engineers with over thirty years' experience in thermal & acoustic insulation, ventilation ductwork, trace heating, and fire stopping, have secured contract at the Wardian site.
The project, based close to Canary Wharf, is a development which offers 766 apartments, retail, sky, garden, gym, swimming pool and cinema complex all set within two slim and tall residential towers, sitting side by side, opposite one of London's most iconic and prestigious areas. This project will be managed out of the company's London Office where they have an order value of £1.3m.
Wardian is in the midst of skyscrapers and beautiful waterways with modern architecture befitting of its reputation as a hub for some of the city's most aspiring and trendy. The site will provide an oasis of homes and facilities which provide a sense of wellbeing and escape from the capital.
Western Thermal will provide the thermal & acoustic insulation, trace heating and fire protection services working with their main client Designer Group. The main developer at the Wardian Project is Eco World-Ballymore.
Michael Slater, Executive Operations Director said: "This is a very exciting opportunity for Western Thermal and to be able to get involved on the Wardian Project is testament to our 30 years of hard work and expertise. We are aware of the expectation to provide a service of the highest standard and we are confident that we will be able to contribute to the overall success of the project."
This is the latest of a series of high-profile contracts for Western Thermal which has sealed its position of a pioneering market leader within the sectors it operates in. Western Thermal Limited's market leading success has been made possible through the specialist divisions that deliver many high quality projects. It is the proficient nature of these specialisms that has enabled Western Thermal to provide a level of service that separates it from its competition.  The divisions oversee a range of essential services including thermal & acoustic insulation, ventilation ductwork, trace heating, and fire protection and stopping.
The Acoustic Division has contributed to numerous landmark projects including London's 199 Westminster Bridge and Leeds University's Fine Arts Building. More recently, it has completed acoustic insulation work at 190 The Strand, Victoria Station, and Wharf Studios in London.  Current acoustic projects include the Merrion House in Leeds. The main specialism is offering acoustic solutions to SVP, RWP and ducting systems.
The Thermal Division is one of the country's leading heating and ventilation insulation contractors.
It has contributed to numerous landmark projects including Heathrow Airport Terminal 5, Wembley Stadium, and Queen Elizabeth Hospital in Birmingham. More recently, it has installed thermal insulation at Victoria Station, completed major works at the Battersea Power Station residential, retail and leisure development, and worked on the redevelopment of Bond Street Underground Station, along with several University of Leeds projects including the Worsley building and the Edward Boyle Library.
This area of the company has also pioneered specialist insulation jackets, using the latest thermal materials combined with removable and reusable Velcro fastenings.  Applications of this technology include the food processing industry and international weather stations.
Western Thermal's Fire Protection & Stopping Division specialises in physical measures to prevent or slow the spread of flames in a fire situation. The company has received numerous accreditations and is certified by FRIAS.  The division has contributed to many landmark projects including the Delta Lounge at Heathrow Airport and the Mango Store in Victoria.  More recently, Western Thermal has completed its largest Fire Protection & Stopping project at The Zig Zag Building in Victoria, London, along with mechanical and domestic services at London's Westfield Shopping Centre in White City.  The Company also used its fire protection & stopping services in the redevelopment of C610 Crossrail, part of Europe's largest current infrastructure project.