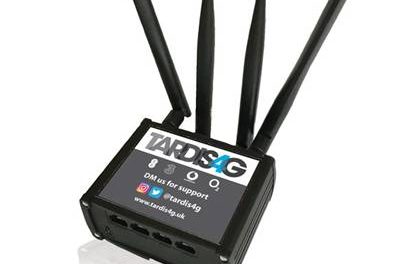 TARDIS4G empowers site teams to stay connected 24/7 – They truly understand the importance of on-site connectivity! Contractors including Willmott Dixon and Winvic trust TARDIS4G to provide on-site communication solutions because they have an unparalleled 4G solution, not just in service delivery; the TARDIS4G infrastructure is superb and this along with other features give TARDIS4G the flexibility their clients require. What makes them truly different? Some of you may have noticed the SIM market has become a very busy space… One of TARDIS4G's greatest features is their ability to directly link into each of the four major networks – This level of real-time data means data or network specific support queries are dealt with in an instant, particularly when residential developers like Persimmon Homes use roaming SIMs – Guaranteed uptime even if one or two networks go down!
A short history… Satellite WiFi was the beginning for connected construction sites dating back to the 90's and 00's but as infrastructure improved coupled with demand, companies like TARDIS4G (called TARDIS / TARDIS3G back then) grew and developed similarly to Vodafone, but on a much smaller scale. Construction companies like Robertson Group were one of the first customers TARDIS took under their wing and they moved from satellite to 3G and now use 4G to keep up with the growing demand for data allowances and bandwidth, not necessarily download speeds!
Long-standing client: Another early adopting client was Willmott Dixon… An example of an existing solution is One Snowhill in Birmingham where 50+ Willmott Dixon Site Professionals and subcontractors are connected via three of our solutions – Each device was configured on two networks with a total data capacity of 800Gb. One of the IT Project Managers said, "TARDIS4G seamlessly connects our site team with multiple networks which provides the resilience we need. Users are able to download multiple blueprint drawings at any one time and the support is rarely needed because their solution works.".
Referrals: The solution at One Snowhill has worked so well for WIllmott Dixon they recommended the service to BAM who are next door at Three Snowhill. They use one TARDIS4G device currently but as their site grows, TARDIS4G grow with them, similarly to how they did with Willmott Dixon.
Good to know… TARDIS4G has been a member of the 5G Innovation Centre at the University of Surrey since 2016 and they've conducted separate tests on EE and Vodafone in the last 24 months with particular focus on IoT (Internet of Things) in construction. TARDIS4G are very confident by suggesting the sector won't be the same again when they make their IoT platform available. The CEO stated "We put the "T" in IoT – Our vision for empowering construction professionals is pioneering and what will be on offer has already attracted the big boys. An aspect we are very proud of is the opportunity we will offer for smaller developers like Burrington Estates and Deanfield Homes. T by TARDIS5G will be an exceptionally powerful tool, and affordable."
VISIT WWW.TARDIS4G.UK OR CALL 01708774420