Tardis4G – Keeping It Simple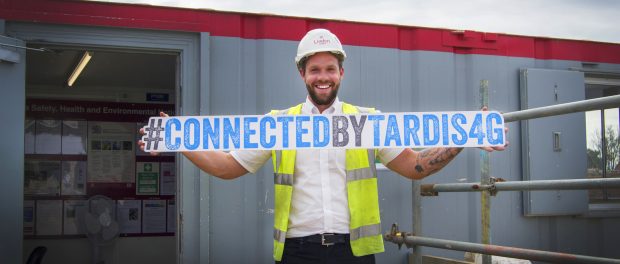 The team at Tardis, an IoT and mobile broadband partner to construction contractors and residential developers, have revamped their company website, but instead of embellishing and expanding the digital space, they've opted for (in their own words) "one of the simplest websites possible" by cutting out the jargon and reducing content to just one page.
They've listened carefully to the needs of their customers and feedback suggests people in construction would rather not read through pages and pages of sales pitches, favouring a quick phone call to get the job done quicker.
Matt at Tardis, said:
"It's been extremely challenging to achieve, but we've kept it super simple. Clients want relevant information super-fast and don't want to be going on a digital treasure hunt. The feedback has blown us away and the new site has already attracted new contractors on rolling 1 month contracts where previously, they would have signed with a major network for at least 18 months. Real service comes through providing the right information, at lightning speed"
The Romford-based telecoms brand has invested a lot of time and brain power into the development of their exclusive technology, some of which will be available later this year and based on what we've heard, will change construction forever.
Tardis has been working closely with the NHS to implement localised mapping using sensors which makes hospitals a safer place to be, and they plan to introduce very similar technology to advance the construction industry.
Tardis' focus has always been to "future proof" everything they do and deliver the ultimate on-site solutions to problems that have long been unaddressed, particularly Health & Safety within construction. They solved broadband and WiFi long ago. Watch this space for 2021, you won't want to miss it.
Check out the new and improved (but small and speedy) website via tardis4g.uk. It will only take you a minute (literally… it's only one page).