Spiral UK create a 6 storey helical staircase in the heart of London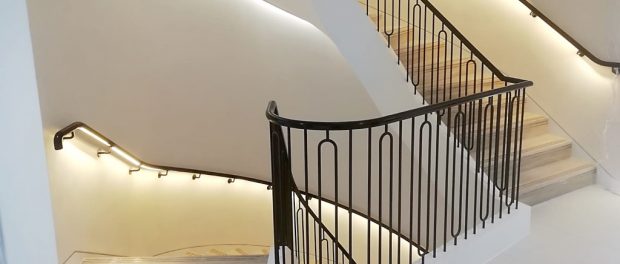 Spiral UK were pleased to create an incredible helical staircase through the centre of a central London building, built to look like it was part of the original structure but standing out for its subtle detailing and strong form.
The Grade I Listed building at 21 St James' Square was the work of The Ritz designers, Mewes & Davies, in the 1930s, who mirrored number 20 next door, emulating the work of esteemed British architect, Robert Adam, from the 1770s. In 2018 it went through a substantial and thorough redevelopment to become an exclusive and opulent office building.
One of the most expensive postcodes in the UK, the previous inhabitant list reads as a 'who's who' of British history, with even the Queen Mother of Elizabeth II residing there from 1906 to 1920.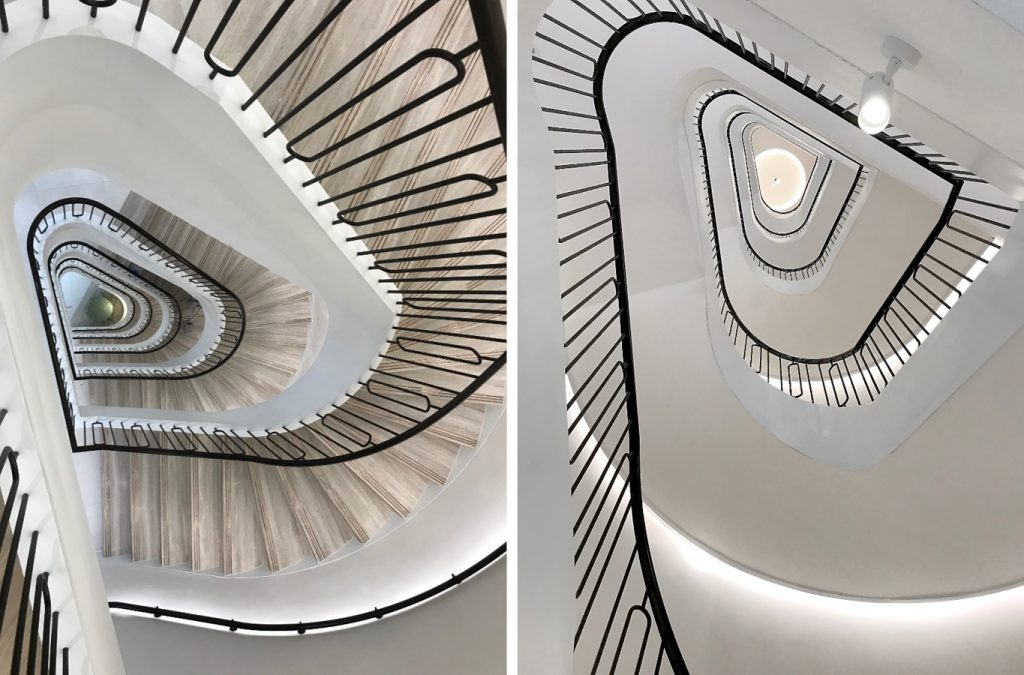 That is why Spiral UK were honoured to be contracted for the feature staircase that winds its way up through the centre of the old building. A stair of this height is ambitious in itself, but this design was helical in nature, bringing with it a host of engineering and fabrication challenges. Helical stairs appear to be defying gravity as they arc through a space and cause tension points where they tether to a structure.
This particular design allowed for hidden support in the surrounding wall, the mild steel structure cantilevering out leaving an atrium space down the centre of the stair, adding drama and wow factor. Gazing up from the ground floor, the dark balustrading contrasts with the white plaster work, accentuating the shape as it spirals upwards. The outer handrail is underlit by LED lighting cleverly concealed within the timber, mirroring the strip-lighting that curves around the edge of the soffits and reflecting off the brass nosing strips set into the vein cut Silk Georgette stone of the treads.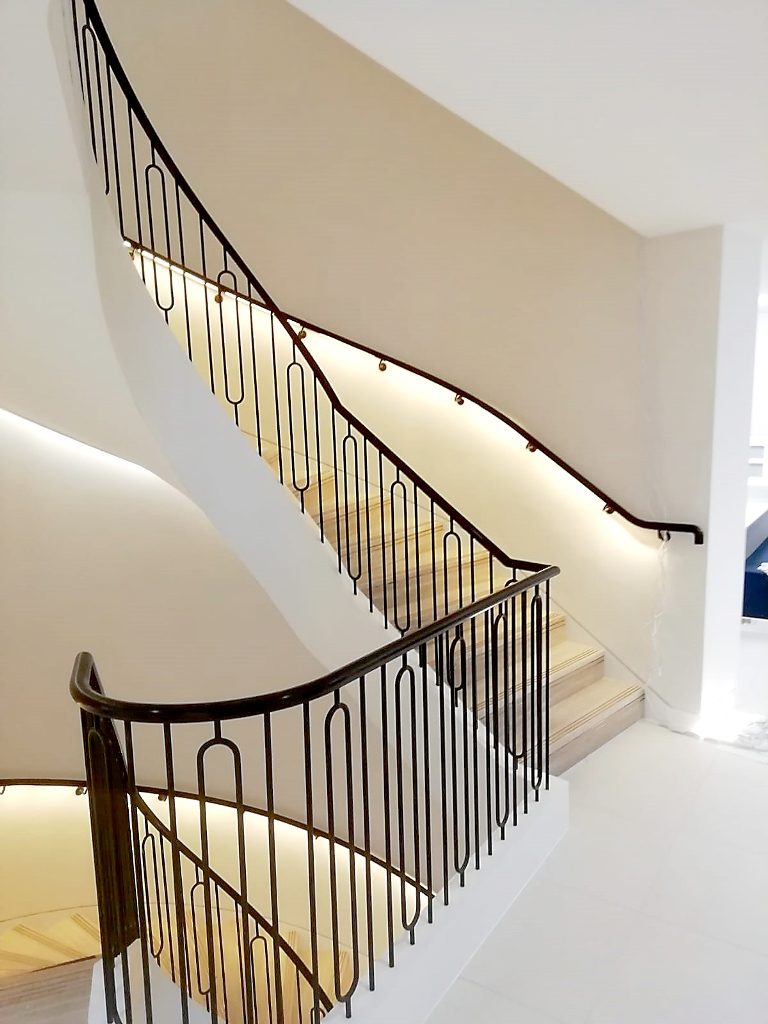 It is no-expense-spared details such as these that make for such a polished finish, where these contemporary stairs look like they have always been a part of the fabric of the building yet manage to integrate modern features.
A study in luxury, the bespoke interior has a stylish, timeless elegance celebrating its historical significance and highlighting opulence and exclusivity. The fit out could not have been any higher in specification and the result is perfection. In the middle of this we installed our helical feat of engineering for private equity firm, Cinven, who made the upper 6 floors their headquarters.
Overall, we are very proud of the outcome and pleased to have been a part of the on-going history of this iconic building.
www.spiral.uk.com
0330 123 2447
info@spiral.uk.com
| | |
| --- | --- |
| Floor to floor heights | 3671mm / 3665mm / 3677mm / 3672mm / 3814mm |
| Stringers | Staircase structure constructed in sections including inner and outer stringers with tread support plates welded between for site welding. Fabricated box section outer stringer with extended inner face including a feature lighting profile "groove" and provisions for acoustic soffit. Fabricated box section inner stringer with extended plate on outer face to extend down to soffit line to provide a clean face for site spraying. Stringer fabricated with the top plate removed. |
| Treads | Folded plain plate closed riser steel treads welded between the stringers to provide support for tread finishes. Ditra Mat, Marine Ply and Silk Georgette treads and risers. Travertine to include 5 No. off brass inserts. |
| Balustrade | Art deco round bar wicket infill panels and plain vertical uprights constructed in panels for welding into the staircase structure with a flat bar core rail to receive the timber handrail. Inner balustrade to be formed with top plate of inner stringer as part of this element allowing a neat hidden welded connection for the balustrades. |
| Handrail | Ø45 French polished sapele with inner handrail connected to core rail of balustrade and outer handrails mounted directly to the wall using standard brackets both with a provision for an LED lighting strip. |
| Soffits | Provisions for an acoustic soffit "by others" included into the staircase structure with the wall side feature lighting groove included into the main staircase structure. |
| Other elements | 20m2 silk georgette tiling to floor @ level 6 including ply & mat. |