Specialist workwear business launches Apprentice Fund for building and construction industry customers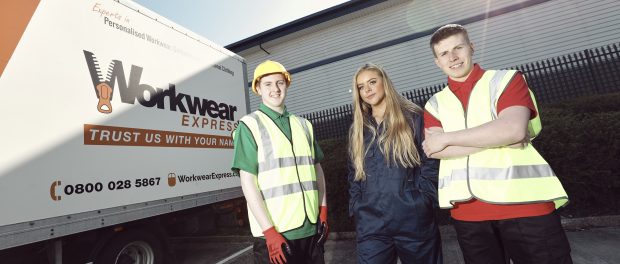 A leading supplier of personalised workwear has launched a fund to support apprenticeships in SMEs, providing branded uniform for new starters in the building and construction industry this summer.
The Workwear Express Apprenticeship Fund is giving away £1,000 in free, branded workwear to small and medium sized employers from its range of uniform starter packs, put together with building trades and construction business in mind.
The initiative forms part of the firm's ongoing commitment to apprenticeships providing the opportunity to be awarded one of four packages of head to toe branded clothing to the value of £250 which could clothe up to 10 new starters or existing apprentices.
Applications by employers are now being accepted for the Apprenticeship Fund and will run until midnight on 21 June 2019. To apply, visit https://www.workwearexpress.com/apprentices/.
General Manager Simon Maw, who was the firm's first ever apprentice, 13 years ago, has first-hand experience of the benefits that an apprenticeship can bring: "The value of apprentices to a growing business like ours are huge. We have a number of apprentices in a variety of roles within our business, we're essentially developing our staff to meet both our current and future needs from day one on the job."
"Our business is built on protecting your brand. We know that having appropriate, high quality branded uniform for apprentices and new starters ensures that they are giving your customers the right impression of your business from the day they arrive on site."
Speaking on a video made by Workwear Express' own apprentices to promote the fund, Mark Collins, an apprentice in the Key Accounts Department says: Having the correct branded uniform makes apprentices like us feel like part of a team and it also helps your business to look professional, because we can be professionally clothed ambassadors for your business."
The fund is open to businesses that would like to benefit from a financial boost to pay for workwear for new starters, students and apprentices. Four grants of £250 will be awarded, covering a variety of workplaces including logistics and transport, manufacturing and facilities management, construction, catering and hospitality, healthcare, business and office work.
Workwear Express customer Michael Oakley, Operations Manager from process services company Conduent said: ''I have been using Workwear Express to create and provide incentive based prizes and welcome gifts to all new starters to our core company.
"We often make very large orders through to the team here at Workwear Express and some of the call out points I would like to make about the treatment we receive are as such: Beth and the team are always timely, warm and supportive – we have great conversations over the telephone and the rapport between our business and Workwear Express is top notch! The quality of the products are very good and the prices are in line with what we can afford within our budget spending.''
Workwear Express is leading supplier of personalised workwear, uniform and promotional clothing. A full-service company, it has more than 100,000 active customers across its three divisions – e-commerce, key accounts and international. It offers services including embroidery, print and transfer all under one roof.
To find out more about the Workwear Express visit https://www.workwearexpress.com/ or call 0808 231 5852.