Sisk progresses at The Oxford Science Park with naming ceremony of two new buildings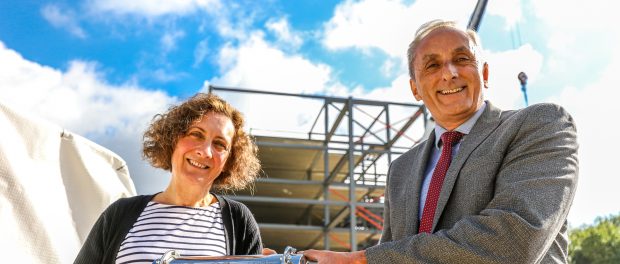 John Sisk & Son has participated at the naming ceremony of two buildings at Plot 16, The Oxford Science Park (TOSP). The buildings have been named after two leading scientists, experimental psychologist Professor Susan Iversen CBE FMedSci and Nobel Prize-winning theoretical physicist Professor Sir Anthony Leggett FRS HonFInstP.
Sisk presented TOSP with a time capsule to commemorate the event. The capsule contained a copy of a newspaper, building plans and a list of contractors. This was engraved with the logos of the buildings which have been designed to reflect the scientists' research.
Both scientists were honoured at The TOSP, one of Europe's leading locations for science and technology companies. Professors Iversen and Leggett, who are giving their names to the first and second buildings on Plot 16 respectively, are both former Fellows of Magdalen College Oxford which is the majority owner of TOSP.
The 86,000 sq ft laboratory and office Iversen Building will be completed in the summer of 2023, providing high-specification grow-on space for science and technology companies. The 78,500 sq ft Leggett Building will be completed the following year.
The Iversen Building is the next laboratory building to complete in Oxford against a backdrop of extremely high demand. Construction is ongoing, with completion expected in the summer of 2023.
Ajaz Shafi, COO, John Sisk & Son, said: "John Sisk & Son is proud to be delivering one of Europe's leading locations for science and technology at Oxford Science Park. The naming of both buildings at Plot 16 after two accomplished scientists and former fellows of Magdalen College is a fitting tribute. Works are progressing well on site and we look forward to leaving a lasting legacy in the community of Oxford."
Rory Maw, CEO of The Oxford Science Park, said: "With the naming of The Iversen and Leggett Buildings, we are delighted to continue our tradition of honouring eminent Magdalen College Fellows and their scientific contributions. These leading researchers will doubtless inspire the growing science and technology companies that will occupy the facilities. The two new buildings are part of TOSP's accelerated growth strategy following the creation of the joint venture with GIC last year, providing high quality and much needed space for the thriving Oxford innovation ecosystem."