Sirius donate £11K to Mind, the mental health charity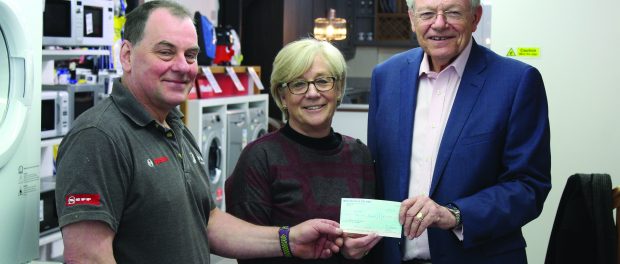 Sirius Buying Group, major buying group of electrical appliance and kitchen retail solutions contribute to a worthy cause and successfully raised an impressive £11,000 at its Awards Dinner 2018 for the charity: Mind.
This prominent mental health charity was nominated by one of Sirius Buying Group's respected Approved Members, Lyn Knight, Director at Abbey Appliances who shows her support by encouraging co-director, Andrew Clarke, to climb Mount Everest later this year.
The money raised for this mammoth task has been donated to Mind and Steve Jones, Commercial Director, Sirius Buying Group, explains, "We have an amazing network of Approved Members and Suppliers, and I am always left speechless by how deep their pockets are when supporting our contributions to aid foundations like Mind."
Gordon Jones, Chairman, Sirius Buying Group says "We hope our £11K contribution will go some way to enhancing the lives of those who suffer from mental illness and its associated issues."
"We provide advice and support to empower anyone experiencing a mental health problem and campaign to improve services, raise awareness and promote understanding. We won't give up until everyone experiencing a mental health problem gets support and respect" says Mind.
Since being founded in 2001, Sirius Buying Group has contributed to many deserving charities and foundations over the years. Collectively, the group and its supporting Suppliers and Members have donated well over £100,000 and it pledges to continue group support for even more worthy causes like this years nomination, Mind.
"The continued support our members give to our suppliers make this generosity possible. Thank you – we couldn't do it without you!" Sirius
 If you have a general query about Mind, please contact: 15-19 Broadway, Stratford, London E15 4BQ │ T 020 8519 2122 │ e supporterrelations@mind.org.uk │ www.mind.org.uk