PRP Consulting Engineers and Surveyors celebrate 35 years with two directors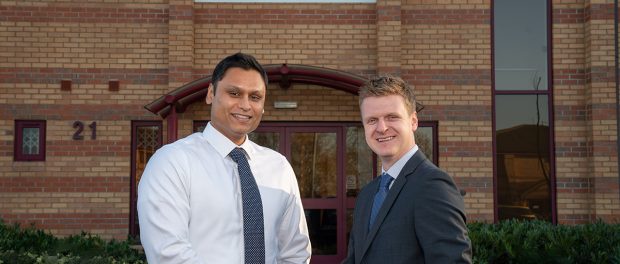 The Leicestershire and Northamptonshire based firm PRP Consulting Engineers and Surveyors, celebrates 35 years in business by announcing the appointment of two new directors to their current management board of six, showing that the company has no plans to slow down.
PRP undertake design, planning and management of all types of residential and commercial construction projects. The company was established in 1985 from a home office and has since had an impressive journey.
Like most businesses who have witnessed several decades, it has not been without its challenges, particularly when the construction industry was hit by the recession in the late 2000s. Despite those challenges, the board's ambition and motivation has never faltered. With a head count of 34 employees, PRP is stronger than ever and looking forward to a bright future.
The appointment of PRP's two new directors forms part of a strategic plan to achieve their long term goals for the business. The newly appointed directors, James Martin and Himenshu Patel, have both been promoted from within the company to join Samantha Maunder, Matthew Sharlott, Barry Smith, Jack Norris, Colin Lambert and Dan Edwards on the board.
Himenshu Patel joined the business in 2011 as a graduate and worked his way up to the role of senior engineer. Himenshu is not the first graduate to be promoted through the ranks to become a director. He joins directors Barry Smith who progressed from a graduate role in 1991 and Matthew Sharlott who originally joined PRP as a trainee surveyor back in 2005.
Promoting from within the business where possible is an important PRP company value as they strongly believe in forming guided career paths and supporting growth within the company. James Martin has been with PRP for two years, bringing with him a wealth of experience working for consulting engineers in London and the West Midlands.
PRP has continued to actively encourage graduate schemes and regularly sponsors students from Loughborough University, with whom they have a long standing relationship with.
Samantha Maunder, director of business and finance, speaks modestly about why employee retention within the business is so high, "We are a family; we are a very sociable company both in and out of work and believe it is important for morale. Everyone is friendly and supportive of each other which is a positive environment for our team. Our employees enjoy coming to work which is a great achievement and something we are proud of.".
The company's recruitment plans will be ongoing well into 2020 as they continue to add to the PRP family.