Power Tools: Why Going Cordless Can Give You More!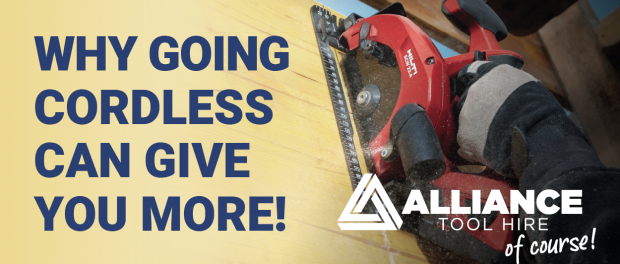 We know our customers do all they can to conduct full and proper health and safety assessments. While it is impossible to eradicate risk completely, cordless tools provide a helpful mitigation strategy.
With no need to plug into the mains and no trailing cables, cordless tools eliminate the trip hazard associated with corded tools. At the same time, they remove the risk of cables being accidentally cut and operatives receiving an electric shock – a situation that could potentially be life-threatening in the absence of other electrical safety measures, such as using an RCD or working with a reduced voltage.
At Alliance Tool Hire, we have a comprehensive range of high-quality cordless tools, from drills and demolition hammers to reciprocating and circular saws. Our equipment is all sourced from leading suppliers, including premium brand Hilti.
Thanks to advances in battery technology, these tools can now emphatically exceed expectations of cordless equipment in three key areas:
POWER
The cordless tools in our range are powered by modern lithium ion (Li-Ion) batteries up to 36V, making them suitable for even the toughest demands of professional building environments. 
PRODUCTIVITY
There's no downtime when your hire includes two batteries that can be cycled alternately. And fast-charging means a 700 breaker battery is ready to go in just one hour and 40 minutes. 
PERFORMANCE
The lighter weight of modern batteries, combined with ergonomically designed tools that have low hand-eye vibration, mean users now benefit from both high performance and high levels of comfort.
Cordless is rightly becoming an appealing option if you're looking for greater manoeuvrability and the opportunity to further reduce your exposure to health and safety hazards. Is it time for you to get more by going cordless?
Get in touch!
If you're feeling inspired and want to take your first step in going cordless, click here to find your nearest Alliance branch and speak to our experienced team.
Why not connect with us onLinkedIn and Facebook! You can also find us on Trustpilot.