New development in North Prospect completes as major regeneration of Plymouth neighbourhood reaches 10-year milestone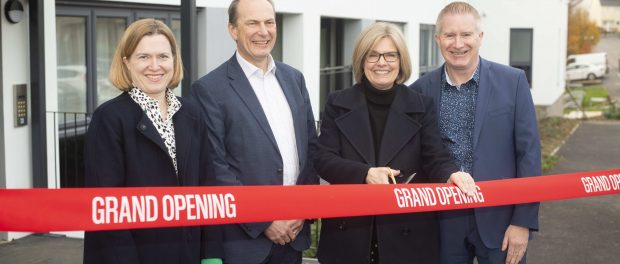 The latest phase of the North Prospect regeneration in Plymouth has completed as the redevelopment scheme, the largest of its kind in the South West region, marks its 10 year anniversary.
Plymouth Community Homes (PCH) is working closely with Plymouth City Council (PCC) and Homes England to deliver this pivotal, five-phase programme, and this week, these organisations came together to celebrate the completion of the latest phase with the official opening of Briarwood Heights, a new development of 33 one-bed flats available for affordable rent by over 55s.
The launch marks a decade of regeneration successfully delivered in North Prospect as part of the overall project, which involves more than 1,100 comfortable, energy-efficient new homes created to replace dated properties.
Regenerating North Prospect was a key objective in transferring social housing stock out of PCC when Plymouth Community Homes was first created in 2009 and has been a major priority for both PCH and the council over the intervening years. A vision was developed in consultation with the community and the North Prospect Regeneration Forum. The scheme is being delivered thanks to partnership working with Homes England, developers Barratts, Kier Living (now Tillia Homes) and Vistry, and with funding provided through NatWest, Barclays, and the European Investment Bank through The Housing Finance Corporation (THFC).
Widespread community improvements have also been delivered, with more open green spaces, safer road and pedestrian networks, and a £4million new community hub called The Beacon offering a library, café, shops, business offices and community meeting spaces.
Over the course of all five phases, PCH will have created 491 homes for affordable rent, 195 homes for shared ownership, and 440 homes for open market sale. The regeneration was deliberately planned to deliver a variety of house types, sizes and tenures in order to ensure a sustainably mixed neighbourhood for the future.
During the last 10 years, work on the scheme has helped transform an area of Plymouth previously known for its high crime and low employment rates, helping to reduce crime and anti-social behaviour by 27% between 2009 and 2018 according to PCH and Devon & Cornwall Police statistics, and leading 94% of residents to say they now feel safe in their homes.
Phase 5, which was started ahead of Phase 4, completed this year, and saw the creation of Briarwood Heights, with 33 modern new apartments built for affordable rent by PCH residents aged 55 and over, including wheelchair-accessible homes. The apartments offer balconies with views over the area as well as a residents' lounge, a buggy store for mobility scooters, and on-site parking.
The block has been built to high standards of environmental sustainability with solar panels and energy-efficient building methods. The name 'Briarwood Heights' was suggested by PCH resident Jan Kings, who said she was inspired by the trees and nature in the area.
Nick Jackson, Director of Business Services and Development at Plymouth Community Homes, said: "We are incredibly proud of the transformative work delivered in North Prospect over the last 10 years to regenerate the area for the benefit of the people who live and work here, and to celebrate the opening of Briarwood Heights as Phase 5 completes.
"As we mark this 10th anniversary milestone, it is important to recognise what has been achieved thanks to collaborative working with Plymouth City Council over the last decade. I would like to thank everyone who has been involved in the scheme to date, including our development partners Barratts, Kier (now Tillia), Vistry, and our funding partners NatWest, Barclays and the European Investment Bank through THFC, and to acknowledge the hard work and dedication of staff who have worked tirelessly to deliver this change.
"PCH is a major stakeholder in Plymouth, where around 11% of the population lives in a PCH home, and we consult regularly with residents about our proposed developments. We continue to work very much in partnership with organisations such as Homes England and our local authorities to get the best results for residents."
Councillor Rebecca Smith, Cabinet Member for Strategic Planning, Homes and Communities at PCC said: "The regeneration of North Prospect is a once-in-a-generation project and so to see the latest batch of new houses become homes is particularly rewarding.
"Like so many of this city's great endeavours, this has been a team effort; a wonderful example of what can be achieved together through partnership working.
"I'd like to congratulate and thank Plymouth Community Homes, Homes England and most importantly, the local community, for all that has been accomplished."
The neighbourhood was first created in 1920 when residents moved into newly built 'Homes for Heroes' developed by the Government after World War One, but a subsequent downturn in the area over the intervening years led to the estate earning a poor reputation, with soaring crime rates, low employment and very little investment.
A name change to North Prospect at the end of the 1960s failed to address these issues, and there was a significant shift towards the need for regeneration in the 1980s and 1990s when the housing stock began to show marked physical deterioration.
After the transfer to PCH in 2009, plans were put in place for a major regeneration of the area.
During the last 10 years, the scheme has seen award-winning collaborative working between PCH and PCC as old, damp and poorly constructed houses have been demolished to make way for new, energy-efficient homes for the future.
Phases 1, 2, 3 and 5 of this work have now been completed, and Phase 4 is underway, with completion due by 2024. PCH has ensured there has been no net-loss of the number of affordable homes available for rent in Plymouth.
Yesterday (Thurs 1 December), PCC and PCH came together with investment partners, stakeholders, community groups and staff past and present at a celebratory launch event held at The Beacon to commemorate the opening of Briarwood Heights as the latest phase completes, and mark the 10-year anniversary of a key project for Plymouth.