Nationwide Platforms hailed for its safety innovation with two industry awards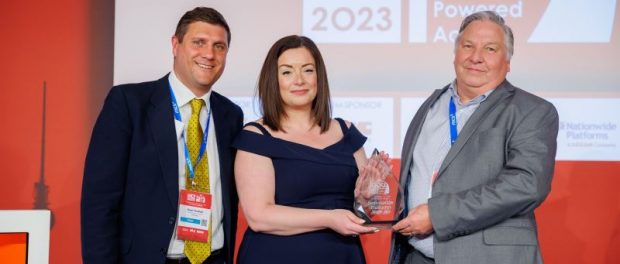 Nationwide Platforms, the UK's leading provider of powered access hire for at-height working, has been recognised for its contribution to the industry, securing two category wins at the 2023 International Awards for Powered Access (IAPA).
The industry's most important annual celebration, was held in Berlin on 20th April. The IAPAs are the most prestigious awards in the powered access industry and celebrate best practice and excellence across the industry.
The award winners were chosen by an independent judging panel of industry experts. Following on from its achievements last year Nationwide Platforms saw another successful night at the awards.
Nationwide Platforms – winner of the Contribution to Safe Working at Height
Nationwide Platforms has been recognised for its commitment to safe working at height for a second year in a row. With its impressive range of safety products and continued investment in educating and training its employees to high safety standards Nationwide Platforms sets the bar within the industry.
Nationwide was praised for its track record of introducing safety innovations, focusing on bringing its Harness On device to the whole powered access industry, its Working at Height event with the aim to bring the industry together and its delivery of training to the UK regulator Health and Safety Executive (HSE) to ensure customer education and upskilling.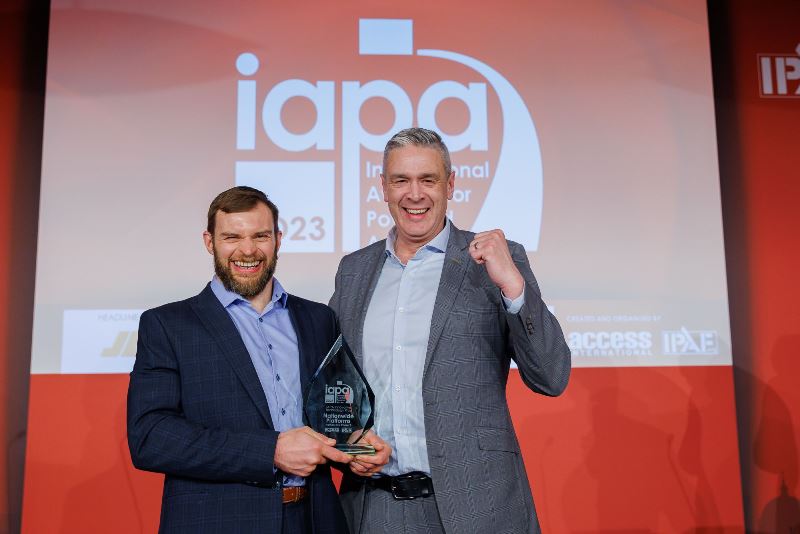 Nationwide Platforms – winner of the innovative technology prize for the Harness On device
Nationwide Platforms, alongside its BlueSky team, continues to develop innovative safety products, and has endeavoured to share its knowledge to raise industry standards.
Harness On is a ground breaking device in industry safety standards as an ingeniously simple product that ensures the safe working of employees working at height. Nationwide Platforms' BlueSky Solutions team is dedicated to developing innovative solutions in line with the company's commitment to remaining at forefront of working at height safely.
Designed to prevent falls, and leveraging the latest induction technology to create smart anchor points, it secures the worker into the basket or platform for all Boom lifts with plans to be fitted to all the fleet.
Simon Beckett, Sales and Marketing Director at Nationwide Platforms said, "It was fantastic to attend the IAPA awards which is always a great event and to see hard work celebrated and recognised. We are at the forefront of the industry for working at height safely and I'm delighted that we're recognised for doing so. We are so thrilled to have such a positive response to our Harness On device which has been a simple but ground breaking solution to working at height safety standards."
For more information on Nationwide Platforms, visit https://www.nationwideplatforms.co.uk/en-gb.   
About Nationwide Platforms
We're Nationwide Platforms, the UK's market leader in powered access platform hire, equipment sales and IPAF training. With a fleet of 14,000+ machines operating from 31 depots across the UK, we have the operational capacity, experience, and expertise to meet all your working at height needs. Our access equipment is designed to support safe and effective work at height between 3.5 and 90 metres and we also supply the country's leading powered access safety innovations and attachments. This includes secondary guarding systems, a range of pioneering Material Handling Attachments (MHAs) including the award-winning Harness ON, and the SkySentry™ control and monitoring system. We believe our powered access solutions should be comprehensive, robust, and safe for every single site, application, and user; that's why we've created a unique collaborative approach which combines the strengths of our business with the specific needs of our customers to deliver a truly excellent service.
To complement our access platform equipment, we offer a range of powered access training and provide instruction to thousands of delegates and employees every year. Courses delivered by our team of professional instructors include those accredited by the International Powered Access Federation (IPAF), the Prefabricated Access Suppliers' and Manufacturers' Association (PASMA). Visit our training site for more information and to book your next course online.