National company wins prestigious Anthony Nolan award for raising £35k in memory of their late colleague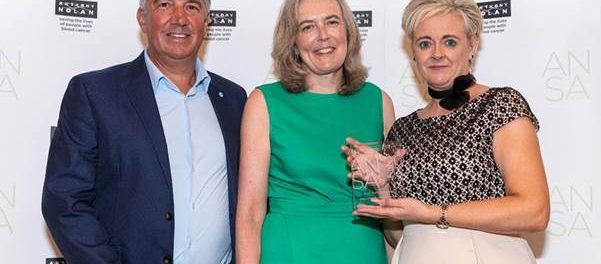 Trad has won the coveted title of Organisational Fundraiser of the Year at the Anthony Nolan Supporter Awards (ANSAs) 2023. The award recognises a corporate for their outstanding contributions to the blood cancer charity. Award winners were announced on the 14th of June at the Tower of London. The winners joined guests including celebrities Kellie Shirley and social media star Vickaboo who were celebrated for using their platforms to raise awareness of the charity's work.
The ANSAs, Anthony Nolan's annual awards ceremony, has been taking place since 2013, and this was the first in-person awards since going virtual for the Anthony Nolan Supporter Awards 2019 due to the pandemic.
Set up in memory of their dear colleague John Paterson who sadly died in June 2021, Trad set a target of £22,000 "22k for 2022" for Anthony Nolan through a calendar of fundraising events throughout 2022. They exceeded this target, raising £35,000.
A special element of this partnership has been John's legacy at the heart of everything his colleagues have done. Events like the Three Peaks challenge and a golf day at Gleneagles in his memory, one of John's favourite places to play golf.
Ros Howe, HR Director at Trad, said:
"Raising £35,000 in John's name and winning this award, for us, has been overwhelming. During our year of fundraising, we've been able to support Jane, John's wife, with her grief; that meant so much to us all because John meant so much to us – he was our friend."
Colin Dobson, Managing Director of Trad says:
"Tonight's been amazing. John was my boss, my colleague and my friend, that I worked with for 25 years. It meant a lot to the Trad family, because the participation from everyone in the company exceeded expectations because of who John was.

"We're so humbled to have been nominated. It feels like the final piece of the jigsaw to win has been amazing and we were so pleased that Jane, John's wife could join us to receive the award. Jane is part of the Trad family."
Henny Braund MBE, Chief Executive at Anthony Nolan, said:
"All of our nominees are a hugely deserving winner of these awards; Trad's incredible support and passion for our work is a fantastic example of our charity, which is built on making lifesaving connections. It was lovely to meet Ros, Colin and Jane and I continue to find myself inspired and humbled by the dedication and strength of supporters like them.

"By raising vital funds and much needed awareness, we are curing blood cancer together. We can give families hope and give more people a future."
Find out more about the Anthony Nolan Supporter Awards at www.anthonynolan.org/awards