Mott MacDonald and UWE Bristol bring 'FUTURES' thinking to transport planning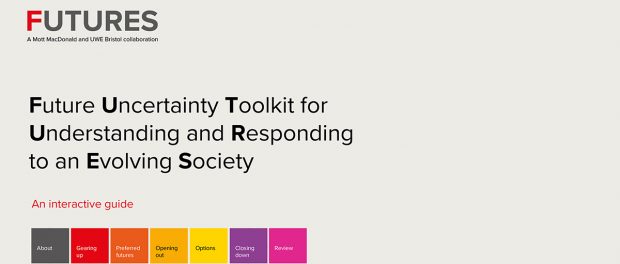 Mott MacDonald and the University of the West of England (UWE Bristol) have launched FUTURES, a six-stage approach to transport planning aimed at helping national and local governments, transport operators and developers, confidently chart a course into the future of mobility. The consultancy believes that this new approach is necessary if transport planning is to remain fit for purpose.
Up until now, traditional transport planning has been driven by adhering to trends and the nature of the world that is known – the forecast-led paradigm commonly known as 'predict and provide'. However, there is currently a process of significant change in society and mobility as the digital age has collided with, and is disrupting, the motor age. Social, technological, economic, environmental and political drivers are at play, creating deep uncertainty over what the future might look like.
FUTURES (Future Uncertainty Toolkit for Understanding and Responding to an Evolving Society) is designed to help organisations decide on the future they want and to develop a resilient and effective strategy to help take them there, accommodating the uncertainties outside their control. The FUTURES approach helps: national agencies and operators to inform policies and programmes; regional authorities to guide strategies and prioritisation processes; local planning and highway authorities to support the planning process and infrastructure; and developers to set the vision and delivery mechanisms for strategic development sites.
The six stages are:
Gearing up

– The preparatory stage helps organisations understand the overall FUTURES approach and its underlying philosophy. 

Preferred futures

– Focus on the centrality of the 'triple access system' in deciding on the future you want. The ability to access people, goods, services and opportunities underpins economic prosperity and social wellbeing. Access is not only delivered by transport, but through land use and telecommunications systems; we believe your vision should reflect this. 

Opening out

– Guides organisations through a scenario planning exercise to understand plausible future contexts faced by the strategy developed. 

Options

– This stage develops a strong set of candidate options that could help set a direction of travel towards realising the vision. 

Closing down

– This stage helps organisations examine how their options could perform in different futures, ensuring options are selected that offer resilience to the resulting strategy. 

Review

– The world continues to change. Putting in place regular monitoring and being prepared to periodically review and, if necessary, revise the strategy considering new evidence and signals of change is the final stage. 
Glenn Lyons professor of future mobility at Mott MacDonald and UWE Bristol, said: "We must concern ourselves not only with the future of mobility but with the future of planning for the future of mobility. There is growing recognition internationally of the need for an evolution in how we address planning and investment for the future. FUTURES represents a key part of this evolution and a means to make decision making more resilient".
The full FUTURES interactive guide is freely available at www.mottmac.com/futures.