Miller Homes employee raises almost £3,500 for Charity after completing 'virtual' London Marathon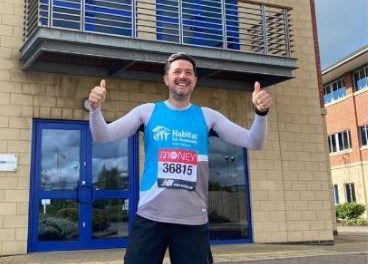 Tim Hartwell, Group Head of Design at homebuilder Miller Homes, has raised nearly £3,500 for Habitat for Humanity after completing this year's London Marathon 'virtually'.
One of the most popular marathons in the world, which usually takes place in April, had been postponed until 4 October, with organisers then taking the decision to only make this year's marathon available to professional runners. They did however encourage members of the public to do their own 'virtual' runs in their local area, recording their own times.
Tim, who lives in Derbyshire and works at Miller Homes East Midlands headquarters on Pride Park, Derby, set out his own route for the 26.2 mile run. Starting from his parents' house in Smalley, Tim ran through Shipley Park, then into Derby and all the way to Attenborough nature reserve in Nottingham. His run was in aid of Habitat for Humanity, Miller Homes corporate charity partner which aims to alleviate long-term poverty by providing families with a safe place to live and thrive.
Running with a close friend and cheered on by members of his family, Tim completed the marathon in 4 hours, 23 minutes and 57 seconds and was rewarded with a homemade medal from his little boy at the finish line.
Speaking on his marathon effort, Tim said: "It was my first marathon and extremely tough, but it feels amazing to have completed it.
"On a personal level, it feels like a real achievement but equally important that it was for such a really important cause. Through working at Miller Homes, I've learned so much over the last few years about the fantastic work of Habitat for Humanity to provide those in poverty with a safe, secure place to call home and I was honoured to have been selected to run the London Marathon on their behalf.
"Although it didn't quite work out as planned, I'm delighted to have raised almost £3,500 to support Habitat's work, well over my original £2,000 target, and I'd like to thank everyone who sponsored me."
Garry McDonald, Group Procurement and Sustainability Director at Miller Homes, who Tim reports to, said; "It's an amazing achievement by Tim, especially as he wasn't able to get full marathon training beforehand – which makes it all the more impressive. He completed his virtual London Marathon in a fantastic time and has raised vitally important funds to support the tremendous work that Habitat for Humanity carry out. Tim is hoping to run for the charity again in 2022 and I know he'll do both Miller Homes and Habitat proud again."
For anyone who would still like to donate and sponsor Tim, they can by clicking the following link: https://uk.virginmoneygiving.com/fundraiser-display/showROFundraiserPage?pageId=1087665