MHM Appeal to the Noah's Ark Children's Hospital Charity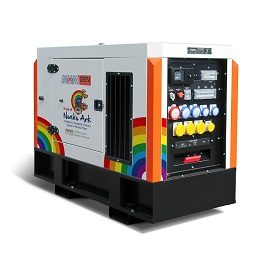 The Charities Aid Foundation states that donating to charity is a major mood-booster. The knowledge that you're helping others is hugely empowering and, in turn, can make you feel happier and more fulfilled.
These sentiments are being echoed by MHM Plant, a leading supplier of power generation, solar-hybrid-generators, fuel storage, lighting towers, engine drive welders and product related accessories.
MHM have commissioned one of their super silent 20kVA diesel generators to be livered in the colours of the Cardiff based charity – Noah's Ark Children's Hospital Charity.
The generator has been added to MHM's rehire fleet and for every hire of this generator 100% of the profits will be donated to the Noah's Ark Charity. MHM anticipate that as much as £800.00 could be raised annually.
Rob Pullen, MHM's operations director, said, "We have our head office based in South Wales and consequently this cause is very close to our hearts. Obviously the money is important and we hope to raise as much as we can. But as the generator is in the distinctive Noah's Ark colours we hope that this will have a positive effect on the profile of the charity."
Rob continued, "We supply equipment throughout the UK, so we expect that the MHM 'Noah's Ark' generator will be highly visible on sites up and down the country".
The Noah's Ark Charity supports 73,000 from across Wales and beyond by raising money to fund vital medical equipment, facilities and services at Wales' only children's hospital. The initial appeal to build and then equip the hospital became one of the highest profiles in Wales, harnessing the support of children and adults alike from across the nation.
Noah's Ark Charity director, Suzanne Mainwaring, says: "We're hugely grateful to MHM Plant for providing us with this opportunity to promote our charity and its work. The more people we reach, the more we can hopefully raise so that we can continue to help ensure the best care possible for the hospital's young patients. The money raised from the hire revenue
will be spent on making life better for children, whether by helping to pay for equipment that makes diagnosis and treatment more effective or by improving their hospital experience by funding the much loved play specialist team, providing support services for parents or organising events and activities to brighten up a child's stay."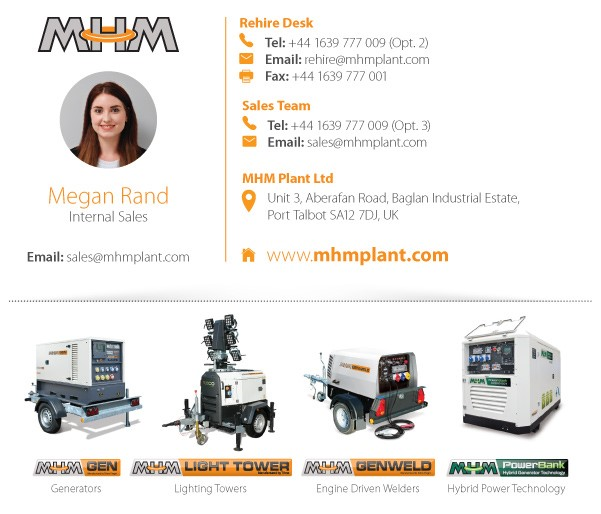 For Further Information contact MEGAN RAND on
Tel: +44 (0)1639 777 009
Email: sales@mhmplant.com or visit us at www.mhmplant.com