MachineMax pledges to plant a tree for every new machine it tracks throughout 2020 in a bid to offset their global carbon footprint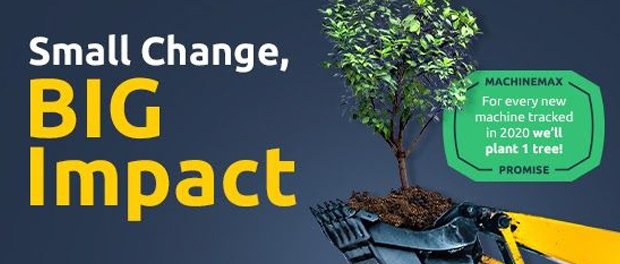 MachineMax, the global provider of an innovative equipment management platform which is designed to maximise the productivity and profitability of off-highway machinery, is promising to plant one tree for every new piece of equipment it tracks in 2020.
The company has signed up to Offset Earth , which allows a business to offset its CO2 output by planting trees all around the world.
It comes as pressure mounts on the construction sector to meet global net-zero emissions targets by
According to official figures the building and construction industries are responsible for almost 40% of all carbon emissions in the world.
Amit Rai, CEO at MachineMax, said: "Offsetting carbon footprint in the construction and mining industries is an ongoing challenge. However, we believe that as a collective, we can come together in reducing carbon emissions
"That's why we have partnered with Offset Earth and pledged to plant one tree for every one machine we track. We are hoping our small change can make a big impact.
"At MachineMax we're committed to developing solutions that support the reduction of emissions and
promise to make a change in contributing to offsetting our global carbon footprint.
"Our industry moves at a rapid pace, and despite best efforts, there is always more that can be done at a granular level to reduce carbon emissions.
"Our promise is all about generating a positive leading change within the environment, for climate sustainability."
MachineMax offers an equipment management platform that is designed for off-highway vehicles located anywhere in the world. It is powered by an easy to install, wireless smart sensor that fits near the engine of any off-highway fleet vehicle. Using artificial intelligence, it can quickly create a unique machine signature to track vehicles, in a bid to increase productivity, reduce idling and in turn cut fuel and emissions.
Idling is a problem that the majority of construction companies struggle with, and it wastes millions of pounds annually. In fact, idling is the very definition of waste. It consumes valuable resources without delivering any value in return. It also wastes fuel in such large quantities that it can leave a major divot not only to the bottom line; but to the sheer amount of emissions that are given off. The cost of idling will only increase as fuel prices rise and emission standards become stricter.
Amit adds:
"CEOs and project managers of construction, mining and aggregate sites are under huge amounts of pressure when it comes to lowering emissions and it's a challenge to demonstrate exactly how they are committed to doing so.
The Offset Earth scheme also allows MachineMax to offset every staff member's carbon footprint.