Local construction partners come together to help fulfill Lincolnshire charity's new HQ project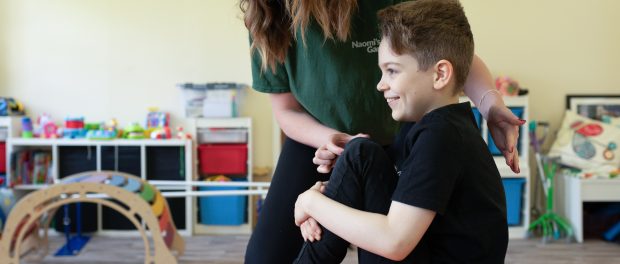 Landscape architecture practice, Influence Landscape Planning & Design, is bringing together volunteer construction and professional services partners to deliver fit-out works for Lincolnshire charity Naomi's Garden.
Louth-based Naomi's Garden, which provides conductive education and special education needs consultancy, has been raising funds to find a new HQ having outgrown its current centre in Manby.
The current site limits the amount of adults and children it can support resulting in its therapists having to travel the length and breadth of Lincolnshire to provide its specialist services, reducing the sessions it can deliver.
The charity raised enough funds to secure a new property on Manby Park, but is continuing to fundraise to turn the new building – previously a motorcycle shop – into a fit-for-purpose facility, where it can deliver its lifechanging services to more people.
East Midlands construction partners who have committed to providing their services, with materials needed for the project being provided at cost price, are Influence, contractor G F Tomlinson, project manager and quantity surveyor Gleeds, GBM Demolition, A + G Architects and professional services firm Knights.
The construction partners will be working together to completely transform the premises into Naomi's Garden's forever home. Works include raising floors, installing ramps, new windows and doors, and complete interior decoration.
When complete, the new centre will enable the charity to extend its working hours, provide group sessions and create a dynamic learning environment for all no matter what their disability, resulting in supporting 50% more adults and children each year. The building will also give them the option to run group sessions and be used for wider community use.
Sarah-Jayne Walker, lead conductor at Naomi's Garden, said: "We currently have a waiting list of families across Lincolnshire who are waiting to benefit from the unique therapy we provide. Therefore, we desperately need our new more accessible hub to be functional, so we can continue our work and expand to help those families who are relying on us as the only service provider of our kind in our area.

"The team and I are overwhelmed by Sara's offer to help and the professional team she has brought together are incredibly kind and we would not be able to progress with the adaptation of our new building without their knowledge and skilled services. A huge thank you to all our wonderful partners. We feel incredibly excited by what comes next.

"However, we do still need to raise enough funds to help us reach our next goal of adapting it to create our new centre. Please consider making a donation. Thank you."
Newark-based Influence Landscape Planning & Design are chartered landscape architects, urban designers, environmental planners and arborists and offer knowledge and consultancy across a wide range of disciplines.
Managing director Sara, who lives in Louth, contacted Naomi's Garden during the pandemic having read about their plight and initially offered to help by providing landscaping services. That conversation continued to Sara offering to bring together a team of willing partners to deliver the works to the new building.
Sara said: "At a time when no one was feeling the impact of the pandemic quite like charitable organisations, and with Naomi's Garden delivering such life impacting work and in my local area, the team and I wanted to help.

"The charity has worked so hard to get to this position; to have secured its new home through fundraising is a real achievement. While more money is needed to buy materials for the fit-out, the construction industry here in the East Midlands has some incredible companies and individuals who want to make a real difference to good causes. I simply picked up the phone to some of my contacts and was humbled by those wanting to support.

"Thank you to those partners and I'm looking forward to working with you all when the works start."
Naomi's Garden raised £160,000, which enabled them to secure the new building. Fundraising activities included hiking the National Three Peaks, a skydive, a Christmas concert, a charity ball and social enterprise company Key Fund provided the charity with a loan of £30,800 and a grant of £9,200.
The construction works to be undertaken to the new premises will cost approximately £350,000 and further fundraising and grant applications are underway to achieve this.
Chris Flint, Managing Director at G F Tomlinson, said: "As a midlands-based contractor, we deliver projects throughout Lincolnshire that deliver life changing facilities and provide opportunities for the local communities to flourish. When Sara invited G F Tomlinson to be involved in this project, we jumped at the chance to give our support to such a worthy cause.

"Naomi's Garden makes a real impact on the lives of many Lincolnshire families, and we are proud to be helping them, alongside other like-minded construction partners, to reach and support more people with their specialist services."
Naomi's Garden provides conductive education in Lincolnshire to families who have loved ones with movement disorders such as Cerebral Palsy, Parkinson's, Dyspraxia and Motor Delay. The charity also has a SEND (Special Education Needs and Disabilities) specialist who works with the needs of children with autism, ADHD and sensory processing issues.
With the help of Lincolnshire County Council, Naomi's Garden also provides free school holiday provision services including free healthy meals and enriching activities for children.
Works are due to start on the new premises in the Autumn, when the charity hopes to have the final confirmation of a funding application.
To make a donation towards Naomi's Garden's new premises please visit: https://www.gofundme.com/f/naomis-gardens-big-move?utm_campaign=p_nacp+share-sheet&utm_medium=copy_link&utm_source=customer