Land & Water celebrates winning five-year contract with Surrey County Council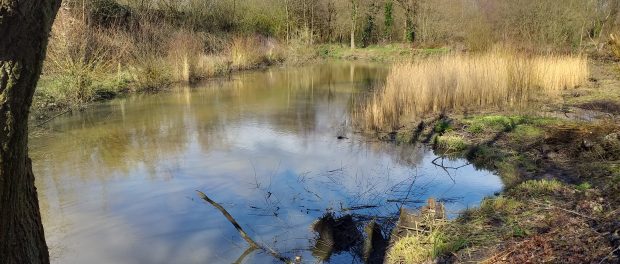 Leading wet civil engineering specialists, Land & Water, has been appointed by Surrey County Council to restore, maintain and monitor a suite of balancing ponds, reedbeds and petrol interceptors off of the A331 / Blackwater Valley Route in Surrey.
The five-year contract, which has been awarded to Land & Water as a result of the company's reputation for delivering quality works and impressive social values, will see the firm use its specialist machinery to carry out dredging and earthworks. This will help to maintain the ponds which are important to not only the drainage of the highway but they also protect and enhance the surrounding environment.
In addition to this Land & Water will also be putting its unrivalled expertise in wetland habitat and vegetation improvements to use as part of the planned works. This will help to encourage local flora and fauna to flourish and enhance the ecological status of the area.
As Land & Water continues to positively add to the places in which its projects are being carried out, it is also working with the Council to offer a range of volunteering opportunities which can help improve the local community and environment.
Fiona Moore, Contracts Manager at Land & Water, said: "This award is a great addition to our contract works and we can't wait to get started in the New Year.
"A term contract like this allows Land & Water to use its specialist knowledge and experience to bring value to the client and to improve the local ecology and environment, something that we pride ourselves on."
Although 2020 has been a difficult and uncertain year for many, Land & Water has continued to deliver successful projects across the UK's waterways and this contract will further support its goal towards bringing value to the places that it works.