Kier completes hat-trick of DfE projects in the North East of England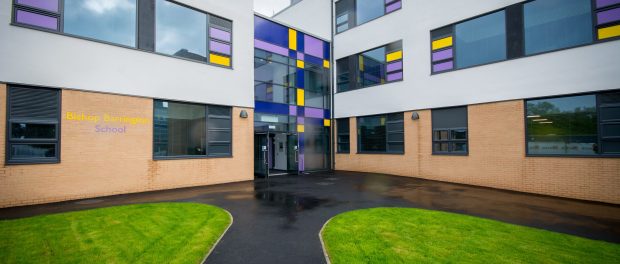 · Kier completes three new buildings for the Department for Education (DfE) in the North East
· St Benet Biscop Catholic Academy has completed, with phase one of Toner Avenue Primary School and Bishop Barrington Secondary schools all handed over on programme
· Procured through the Priority Schools Building Programme, Batch B
Kier has handed over a hat-trick of buildings in the North East of England to the Department for Education (DfE) as part of the Government's Priority School Building Programme which is rebuilding or refurbishing school buildings in the very worst condition across the country.
Phase one of Bishop Barrington School was the first project to be handed over and Kier completed a new teaching block situated within the middle of an existing building. Kier will continue on-site to deliver phase two of the works which will include the demolition of the old school building, then completion of the remaining external works
The second project was St Benet Biscop in Northumberland, this was a classroom extension and sports block for 1100 children and 200 staff. The works took place in a live environment and all activities were planned to allow the school to remain operational throughout.
The final handover was the completion of Toner Avenue Primary School in Hebburn and this was a new build for South Tyneside Council and the DfE. Kier has completed the demolition of the existing building, as well as hard and soft landscaping including the car parking.
Dan Doherty, Regional Director for Kier Regional Building Northern, said: "The handover of these crucial projects on time showcases our dedication and commitment to delivering throughout COVID-19. The site teams have continued to work throughout and have delivered these projects whilst adhering to the Construction Leadership Council's Site Operating Procedures which are based on the UK Government's instructions. We look forward to them being used and positively benefitting the lives of pupils that attend the schools for years to come."
Kier is currently delivering a number of educational schemes across the UK for the DfE and on average, it hands over more than one school project a week.