Kier completes award-winning £253m HMP Five Wells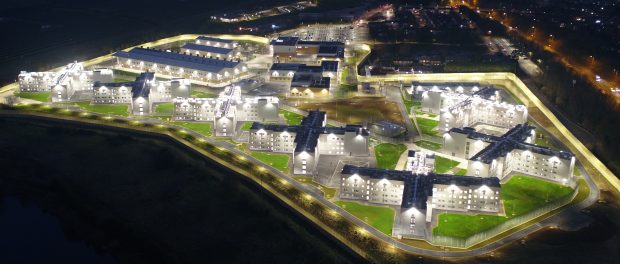 Kier has completed the award-winning £253m HMP Five Wells in Wellingborough, part of the Ministry of Justice's (MoJ's) Prison Estate Transformation Programme. An official opening event was held yesterday (3 March 2022) and attended by the Deputy Prime Minister, Dominic Raab; the Minister of State for Prisons and Probation, Victoria Atkins; senior delegates from Kier, G4S and the MoJ.
The 60,000m2 prison includes seven houseblocks, classrooms, workshops, a kitchen, an entry building and a spacious visitors' hall and is the first to be delivered as part efforts to reform and modernise the prison estate, making it more efficient, safer and focused on supporting rehabilitation.
As a project integrator, Kier used a Design for Manufacture and Assembly (DfMA) component-led approach to deliver the project, setting new standards for excellence in modern methods of construction (MMC), innovation and digital technologies.
The complex project incorporated 15,183 precast panels and more than 60,000 sub-components across 13 buildings on site and around 80% of the design has been standardised and is applicable to future projects. The project's extensive use of offsite manufacture also supports the national levelling up agenda, with the majority of manufacturing facilities in former industrial heartlands and areas with high levels of deprivation.
BIM and digital integration with the MOJ and supply chain were paramount for Kier with all components tracked digitally from manufacture to installation. This approach enabled the prison to be built 22% faster than traditional construction and reduced on-site labour by a third, with pre-fabricated mechanical, electrical and plumbing engineering (MEP) alone saving 54,000 working hours on site.
The new Category C prison provides 1,680 resettlement places for male prisoners and has been specifically designed to encourage rehabilitation and help prisoners reintegrate into society on their release. Kier and the MoJ's commitment to supporting rehabilitation began during construction with Kier employing 19 serving prisoners via Release on Temporary Licence (ROTL), facilitating skills development and providing opportunity for recent work experience. As well as this, throughout the project 227 jobs were created.
Liam Cummins, Group managing director at Kier Construction, said: "HMP Five Wells has many pioneering aspects as both a facility and construction project. Not only does it align with the Construction Playbook but it pushes the boundaries of digital construction and design for manufacture and assembly. For Kier it represents a gold standard of public contract delivery. The Ministry of Justice and our collaborative working relationship has been central to the project's success.
"It has been a monumental effort and required a strong, collaborative and enthusiastic approach from our team and as crucially, our supply chain.
"Social value has been at the heart of delivery as we have created hundreds of jobs and dozens of apprenticeships, both on site and at manufacturing facilities up and down the country." 
The project has won 16 industry awards to date, including Productivity in Construction Initiative of the Year, Supply Chain Excellence, Offsite Project of the Year and Digital Construction Excellence.