Kier celebrates the official opening of DIO's new £12m headquarters at DMS Whittington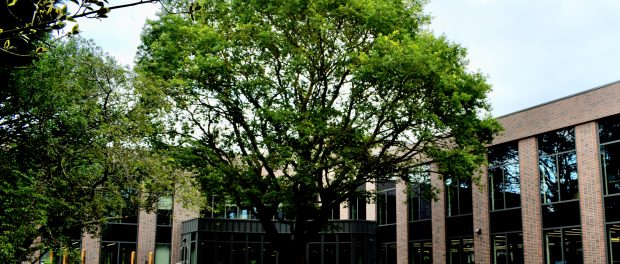 Kier has celebrated the official opening of the Defence Infrastructure Organisation's (DIO's) brand-new £12m headquarters at DMS Whittington in Staffordshire. The project was appointed to Kier Graham Defence Ltd through the DIO Framework project and is part of the Defence Estate Optimisation Portfolio, which is investing £4.3billion in modern, greener and more sustainable facilities for Defence over the next decade.
An opening event to mark the official opening of St George's House at DMS Whittington was attended by the Chief of Defence Staff, DIO Chief Executive along with Kier representatives and included a parachute jump by the Silver Stars, as well as an unveiling of a hologram to officially open the building.
Construction works for the new headquarters included the construction of a 2,600m² office building as well as a car park providing 230 additional car parking spaces. The building can accommodate 300 people and predominantly sits over two-storeys with some additional third-floor space for meeting rooms, including an impressive atrium which creates a striking backdrop at the main entrance. Throughout the build, modern methods of construction and digital construction were utilised to add efficient delivery of this project.
Construction work started on site in January 2020 and completed August 2021.
Chris Stevens, Kier Construction operations director, said "The existing military site has been transformed into a place where DIO employees have modern, fit-for-purpose offices and we are pleased to have completed and handed over this fantastic building to DIO. Well done to the Kier project team who have gone above and beyond during COVID to deliver this impressive and modern facility."
Graham Dalton, DIO's chief executive, said: "DIO's new headquarters is a flagship building for Defence. It demonstrates how we can use building design to enable our people to work in a modern, flexible way. And it demonstrates how we can use a smaller footprint and modern designs to minimise energy use – bringing a new standard of sustainability to Defence Infrastructure
"We have moved from an old site in Sutton Coldfield, and are looking forward to DIO being part of the Defence community at DMS Whittington. This is a vibrant modern site and we're happy to join other progressive Defence organisations here."