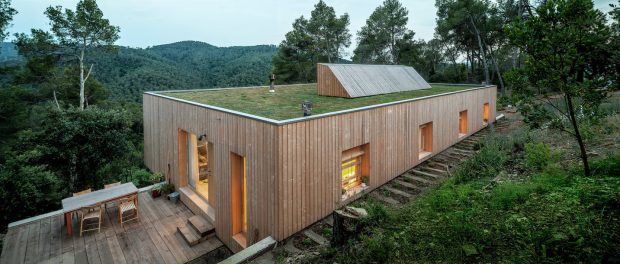 At A9 Architecture Ltd we are extremely enthusiastic about "Living" or "Green" roofs. They make an incomparable visual statement of your principles and offer multiple benefits over traditional roofing. Traditional methods of flat roofing such as asphalt are difficult to install and if they fail, are problematic to repair to an effective level. In the worst cases the whole roof will need to be replaced, with the old one heading to the nearest landfill.
A green roof can insulate and increase the lifespan of your roof, provide a space for biodiversity and help moderate storm water run-off, even when already saturated.
By covering the area with a waterproofing membrane, then growing a maintenance free sedum blanket over the surface, shielding the membrane from ultra-violet radiation and physical damage your roof will stay watertight and look good for decades.
By improving the thermal performance of a roof covering, a "Green" roof allows buildings to better retain their heat during the cooler winter months while reflecting and absorbing solar radiation during the hotter summer months, allowing buildings to remain cooler.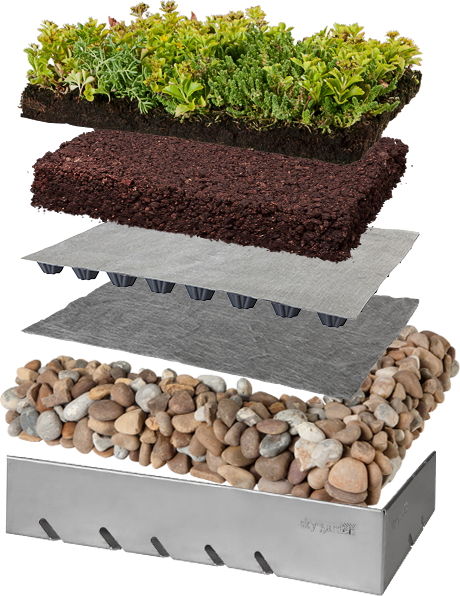 There are four types of green roof systems 
Each type of green roof brings different benefits, so it is well worth learning more about each system on offer.
The systems differ in many ways. Plant finishes; depths and types of substrates; and drainage boards are all carefully considered in each green roof system to allow the roofs to flourish.
Please read more about each system below.
A sedum roof is ideal for an extensive green roof finish. The plants are perfect for withstanding the harsh roof environment, as well as looking absolutley beautiful when in bloom. With a minimum substrate depth of 50mm the sedum roof is our lightest system and very easy to install.
Biodiverse systems seek to mirror the local ecological environment. With different depths of substrate across the roof and different materials forming micro-habitats, the biodiverse roof system increases the biodiversity and reduces the ecological impact of a building.
Wildlfower roofs offer a more varied mix of plant species and local wildflower plants can be incorporated into a wildlfower green roof to enkeep with the surroundings. Wildflower roofs require a deeper substrate to hold more nutrients.
The module system is made up of pre-formed cells that easily 'click' together to create a complete green roof system quickly and without fuss. Just lay a protection layer over the roof membrane and start installing the modular system.
To learn more about green roofs and adding one to your home, book in a free consultation with our team.
Installation
Green roofs need to be installed on roofs pitched at no more than 30°. The planting is just the tip of the iceberg — underneath, a moisture-retention fleece keeps water in the soil rather than letting it pool on the membrane surface; an aqua drain carries away excess water. A good membrane is nonetheless required to prevent leakage, while a vapour control layer manages the passage of internal water vapour through the roof, preventing condensation inside.
Is a Green Roof for Me?
A green roof is, in ecological terms, a great and simple thing to do. It replaces the ecology the new house sits upon, thereby replacing the habitat that a house takes away. Used over a whole roof, a green roof will be the single overriding design influence on the house as well as impacting on the construction, right down to the foundations.
But green roofs do not necessarily need to be applied to the whole roof, or even the house itself. If the roof is accessible, having just a section planted is visually pleasing and a step in the right direction. Alternatively, install a green roof on an existing shed or garage, or install an extensive system on a flat-roofed extension.
The right system used in the right place has no downside. So a better question, perhaps, is which green roof system is best for your project?
5 Benefits of a Green Roof
When it comes to roofing, green roofs are, without doubt, one of the more visible signals that you have built a sustainable home. There is a lot of cynicism that they don't actually serve enough 'eco purpose' to be worthwhile, but they do have some genuine benefits:
Rainfall onto a green roof is held and taken up by the plants; reducing the volume of water the drainage system has to cope with.
Wildlife habitats can be lost during construction. Green roofs help to create new habitats within urban environments.
Research suggests that green roofs can improve the concentration and productivity of a workforce by providing outdoor recreational space.
Green roofs absorb UV rays and solar heat which reduces air conditioning costs and prevents damage to the roof membrane.
The sun's heat is absorbed by city surfaces and radiated at night. Evaporation from green roofs cool the air to reduce this effect.