Ibstock wins big at Construction Marketing Awards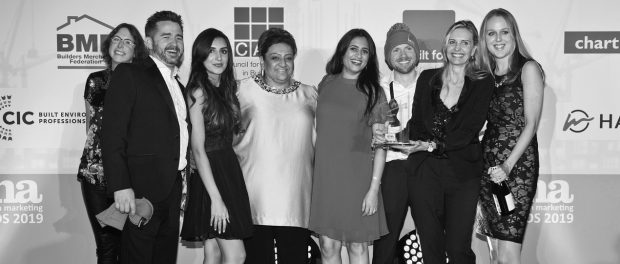 The marketing team of Ibstock Plc is celebrating after scooping the top gong at this year's Construction Marketing Awards. The group picked up the prize for 'Marketing Team of the Year' at the ceremony, held on 28th November at London's Hilton Bankside hotel.
The award recognises an exciting year of growth for Ibstock Plc, which has seen the marketing team spearhead a number of major initiatives. These include the wholesale rebranding of Ibstock's corporate identity (which was shortlisted in this year's Best Branding and Positioning category), the opening of the i-Studio in London and the roll-out of The I-Range; a series of innovative products and solutions aimed squarely at the specification market.
Annette Forster, Group Marketing Director at Ibstock Plc, commented: "It's an absolute honour to have been named 'Marketing Team of the Year' at this year's Construction Marketing Awards. The win bears testament to not just the hard work and dedication of the team, but also the truly ground-breaking work Ibstock is carrying out across the construction, architectural and specification industries.
"As a collective, the team has been in place for just a year – so to achieve recognition at such a high level so soon after our formation is truly extraordinary!"
The current marketing team was formed following a complete restructure of Ibstock's operations, which saw the creation of two brand-new, distinct business units – Ibstock's clay and concrete divisions. The divergence within the business has enabled Ibstock to further streamline its efficiencies and raise awareness of its diverse product portfolio.
Annette continued: "As a business, we have aspirations to be a 'superbrand' within the construction industry and have taken major steps towards achieving this across 2019.
"Key to this has been the launch of an all-new brand identity for Ibstock; supported by the delivery of tangible touch points such as our customer facing I-Studio, branded canteens for staff across our manufacturing sites and a host of internal and external integrated marketing campaigns which have already had impact on customer and staff engagement, alongside market share and profitability."