Groundbreaking marks start of work at St. Modwen Park Chippenham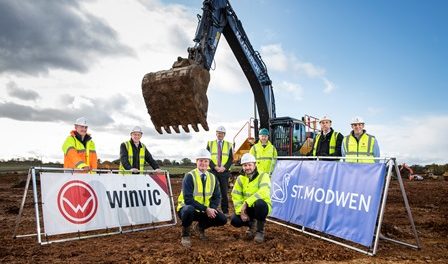 St. Modwen has commenced construction on the first phase of development at St. Modwen Park Chippenham.
The developer has broken ground on a 106,000 sq ft speculative unit with plans to complete the site wide preparation and deliver a further phase in 2020.
The site, formerly known as Chippenham Gateway, secured planning permission from Wiltshire Council in August 2018 and has permission to build a variety of units ranging from 100,000 sq ft to 1,000,000 sq ft on the 79-acre site.
Once completed, the whole site is expected to create around 1,300 jobs once complete as well as skills, training and apprenticeship opportunities through a planned partnership with Wiltshire College.
Longer term, St. Modwen Park Chippenham will generate significant inward investment for the local area with a growth potential of around 1,000 jobs once the site is fully operational.
Located in Wiltshire, the site is strategically located off junction 17 of the M4 in the heart of the south west logistics triangle, serving both Bristol and Swindon. Mainline rail links provide access to London Paddington in just one hour and 15 minutes.
Peter Davies, Development Director at St. Modwen Industrial & Logistics, said: "St. Modwen Park Chippenham is a key industrial and logistics site in the south west region. We have already had a significant amount of interest due to its excellent location and we are able to meet specific occupier requirements with build to suit solutions in addition to our high-quality speculative build programme."
Alistair Cunningham, Executive Director at Wiltshire Council, added: "St. Modwen Park Chippenham is an important site with real potential for growing employment in the north of the county. Once complete, the site will drive economic development as well as bring job opportunities to the area."
Ben Shearman, Operations Manager at Winvic Construction Ltd, commented: "Our relationship with St. Modwen has gone from strength to strength and we look forward to commencing work on site and continue working in partnership to deliver quality units across the UK."
The joint agents for the site are Alder King, DTRE and JLL. For more information on both sites, please visit: stmodwenlogistics.co.uk