Grimshaw reveals plans for world's largest botanic garden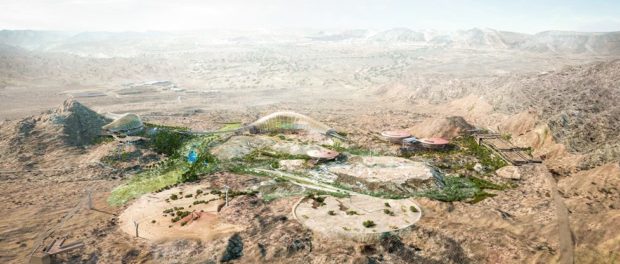 A team including Grimshaw has unveiled designs for the world's largest botanic garden, near Muscat in Oman.
Working with the guidance of the Sultan of Oman, Grimshaw has collaborated with engineer Arup and cultural sector design firm Haley Sharpe Design on the 420ha Oman Botanic Garden.
The garden will be partially contained within two biomes, reminiscent of Grimshaw's Eden Project, and will celebrate and conserve plant species native to the sultanate.
Grimshaw partner Keith Brewis said: 'The Oman Botanic Garden is an astonishing project with many layers of interwoven cultural and environmental significance. Its scale and diversity are truly world-leading, and we are honoured to work as the architects for a project that has the conservation of biodiversity as a core design driver.'
The gardens will showcase eight separate habitats of Oman, with the biomes simulating conditions in two of these: the northern mountains and the moist green Dhofar region.
The project will be built in the foothills of the Al Hajar Mountains on one of the few locations in the world where the ancient seabed is still visible, having been raised to 100m above sea level following tectonic activity.
A statement from the scheme's promoters said the design uses passive and active shading, and optimises natural daylight, cooling and efficient plant irrigation.
'Building form, shape and materials have been considered and selected in response to atmospheric conditions and the natural topography,' it said. 'Orientation of the sunlight, weather patterns and human behaviour have informed the design of visitor flow through the site.'
The project is due to start on site imminently.