George Clarke announces the winners of Ecofix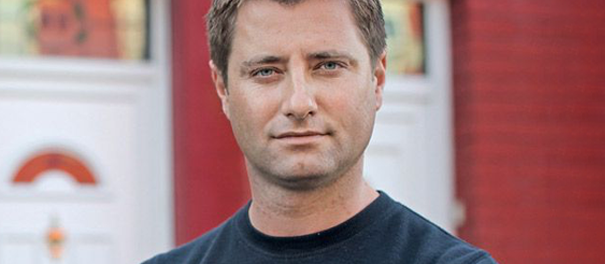 TALENTED ENTRANTS PRODUCE INSPIRING IDEAS AND DESIGNS FOR THE REUSE OF EXISTING BUILDINGS
Renowned architect and TV presenter George Clarke has announced the winners of EcoFix, a MOBIE design challenge for young people. The challenge, created by MOBIE – Ministry of Building Innovation and Education – an education charity founded by George Clark, with international architecture practice Grimshaw and international consultancy and construction company Mace, asked young people to design innovative and inspirational ways to reuse existing homes and buildings.
Entrants, from across the UK, identified a building or buildings which are energy-inefficient and therefore in need of critical improvement. Applying design knowledge, skills and, most importantly, creativity and imagination the submitted proposals focused on retrofit – the updating, upgrading and repurposing of buildings. The challenge highlighted the critical role our existing homes, buildings and cities have in reducing energy, saving precious resources and ultimately addressing the climate crisis.
The presenter of Channel 4 programmes Restoration Man, George Clarke's Amazing Spaces and Old House New Home said:
"Home is the most important piece of architecture in our lives. It crafts the way we live, and how we grow as families and communities. The built environment accounts for 40% of our carbon emissions and there are around 27 million homes in the UK that need to be retrofitted by 2050 if we are to achieve our net zero obligations and avoid 1.5 degrees of warming. We must make our existing buildings more energy efficient for people and the planet".
Clarke added:
"The communities and homes of the future will be lived in by today's young people. They are passionate about reducing the impacts of climate change, so who better to ask for ideas about how we can retrofit our existing buildings.  That is why I am so excited to announce the winners of this young persons' design challenge. 

"We asked young people, aged between 12 and 25, to select an existing building and create ideas about how it could be brought back into active use and how its energy use could be radically improved.  The winning designs included the conversion of a terraced house, adapting it for disabled occupants, the reuse of an old mill building as a family home and a historic hospital as a community for the elderly community and even the conversion of former Cold War aircraft hangars to apartments for young workers. 

From my experience, I expected to see incredible design talent and imagination come forward and I was not disappointed! The winners came up with inspirational designs. It is clear young people have great ideas about how to reuse old buildings and how we can reduce their environmental impact. The uses of technology to adapt buildings for a variety of users and to reduce their energy use were amazing and so imaginative.  

"It was hard for the judges to choose the winners. They were genuinely wowed by the standard of the work that these young people produced. The future of the built environment, and the planet, is in great hands with talent like this around – I can't wait to see what they do next."
Andy Thomas, Partner at Grimshaw said:
"The power of creativity and imagination to solve today's complex and challenging issues, particularly climate change, needs to be embraced and it is fantastic to see our next generation of thinkers bringing this to bear through the EcoFix challenge. Retrofit – the reuse of existing buildings in our cities – was our focus, and the diversity and breadth of the entries – considering the adaption of buildings from hospitals to homes – demonstrated the opportunity we have in our communities today. It's important that the ideas entered as part of this MOBIE challenge have resonance – they should inspire the design and construction industry to make deep and lasting change for a net zero, regenerative future. 
Rachel O'Donnell, Consult lead for Retrofit at Mace, commented:
"Decarbonising our buildings and infrastructure is essential to tackling the climate crisis, as well as creating cities and places that are resilient and fit for the future. Our recent paper Transform & Renew examines this issue, setting out 12 recommendations to turbocharge commercial and public sector building retrofitting.

"The quality of the entries to the EcoFix competition this year was incredibly high, and we found judging the proposals a real pleasure. We are excited by how these inspiring young people looked far beyond the business-as-usual to research and innovate in pursuit of a low carbon future. Their creations offer hope that the next generation of built environment specialists will enter the industry equipped with passion, imagination and expertise fit to combat climate crisis and decarbonise the built environment."
The design challenge was open to young people aged 12-25+ from across the UK.  Entries addressed properties from London in the south to Newcastle in the north, and Shropshire in the west to Suffolk in the east.
The winners are:
12-15 years –Team Micros Kosmos – Maariyah and Trinuha, Ursuline Academy, Ilford – 3 bedroom mid-terrace house, Ilford
16-18 years – Grace Hawkins – conversion of disused mill buildings to a family home, Ashford Mill, nr Ludlow, Shropshire
19+ years – joint winners – Team Spatial Office – Giorgia Deriu, Emily Robson, Jack Smailes and Jack Crowther, Teesside University – conversion of historic Keelmans' Hospital, Newcastle to community for the elderly; and
Team Derive – Abi Smith, Charlotte Dowdall, Chelsie Clay, Farah Said, Grace Sharp, Teesside University – a multi-level, multi-functional living community at former RAF hangars, Woodbridge, nr Ipswich, Suffolk
Nottingham Girls' Academy were runners up in the 12-15 age group and Wootton Park School, Northampton (12-15) and Rosa Wilde (19+) were highly commended entries.