Forterra colleague wins lifetime achievement in Microlise Driver Of The Year Awards 2020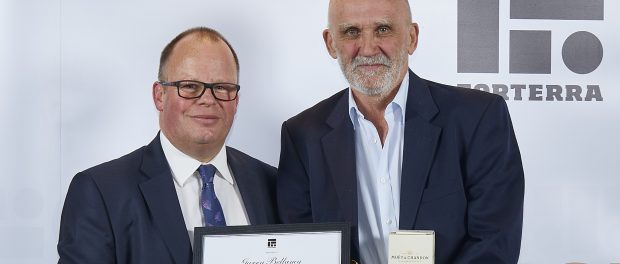 A Forterra HGV driver, who has been working with the company for more than 50 years, has won the Lifetime Achievement Award in the Microlise Driver of The Year Awards 2020.
Garry Bellamy was just 15 when he joined the Transport Department of London Brick Company (now part of Forterra) as an Apprentice Mechanical Engineer.
He passed his HGV driving test and became part of a team responsible for going out to vehicles that needed repairing or recovering. In 1981, Garry took the opportunity to become a full-time delivery driver and has remained one ever since.
Garry has experienced a lot of change during his 39-year driving career and has worked to continuously improve and upgrade his skills. When he first started driving, trucks were equipped with little more than a crash gearbox and a steering wheel, while today's technology plays a central role with telematics, driving style analysis, and engine management systems underpinning life on the road.
"The Microlise Driver of the Year Awards uncover fantastic drivers who have stories that highlight the sheer hard work, dedication and single-minded professionalism that is needed to excel in this industry," said Chief Executive of Microlise, Nadeem Raza.
Garry was pleasantly surprised to win the award. "My boss asked if I minded being put forward for the award and I said it was fine. Then I forgot about it really. One day he said, 'I've got something for you' and told me I'd won! It's nice to have the recognition, but I didn't know what to say at the time – I was amazed.
"I've never been one to try and impress – I just let things roll by. But I enjoy the work and I find it easy now. Nothing is a problem for me, I enjoy just getting on and doing it. I'm gearing towards retirement now and I'm worried I'm going to get bored!
"It's kept me in a decent way of life. I've had good times with good mates, and I'll look back fondly on my career."
Forterra is a UK leader in manufactured masonry products, with a unique combination of leading market positions in clay bricks and concrete blocks. It has industry recognised brands with its trusted range of clay and concrete products used extensively within the construction industry.
For details, visit www.forterra.co.uk.