FORRME completes £2m Transport Hub & Civic Square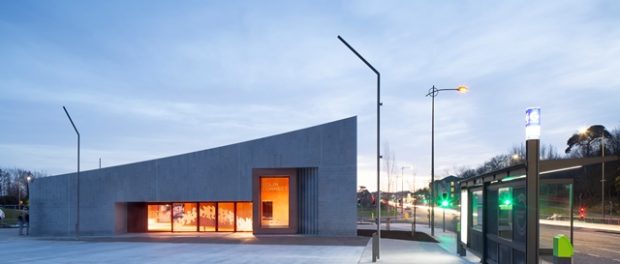 Northern Ireland-based construction company FORRME has transformed a former Belfast greenfield site into a brand new transport hub as part of a wider regeneration masterplan.
The Colin Connect Transport Hub and Civic Square now provides facilities for the local community as well as the infrastructure to facilitate the much-anticipated Belfast Rapid Transport (BRT) system.
With a project value circa £2m, the transport hub provides an interface between the existing Metro feeder services alongside the new BRT system to improve links to the City Centre while ensuring the surrounding community is highly accessible by bus.
Key features of the transport hub project include its complex reinforced concrete structure, including a curved structural concrete roof deck. Externally, the building is finished in natural stone cladding, whilst internally, it features a striking pigmented board-marked concrete finish. The new transport hub houses a main concourse, lobby, waiting area, office space and bathroom facilities for the public. The civic square, designed to host activities throughout the year, is complimented by an amphitheatre and cycle parking.
Donard Leonard, Site Manager at FORRME commented, "We are particularly proud of the Colin Connect transport bub – not only is it a striking building with strong architectural merit, it has been built to have a positive and lasting legacy for local residents for generations to come.
"As part of the wider Colin Town Centre masterplan, the transport hub represents a critically important step forward in the ongoing regeneration of the area.
"During the build process we were we were privileged to get to know the local community by hosting site visits for pupils from local schools and colleges, working with nearby charities and employing local subcontractors. The warmth and positive feedback we have received throughout has been humbling.
Full completion of the Colin Town Centre masterplan is due to take place in 2027, with additional projects including a mixed-use town centre development coalesced around the civic square including leisure facilities a new pedestrian / cycle link as well as a new amalgamated primary school.