FIDIC signs landmark strategic cooperation agreement with the China Association of International Engineering Consultants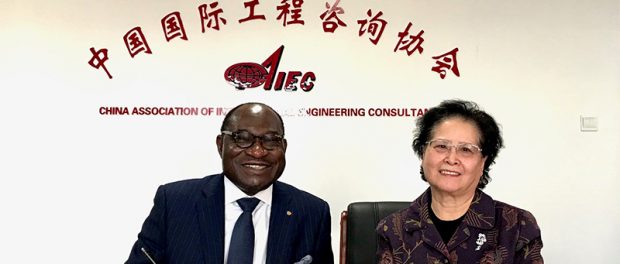 International engineering federation FIDIC (the International Federation of Consulting Engineers) has signed a memorandum of understanding (MoU) with the China Association of International Engineering Consultants (CAIEC) to improve collaboration between international and Chinese businesses across a number of key areas and improve the competence of Chinese consultants in planning, design and the management and application of FIDIC contracts.
FIDIC and CAIEC, a national, professional, non-profit organisation comprising qualified consultant experts and legally registered enterprises engaged in foreign investment and international engineering consulting, have signed a three-year MoU following detailed discussions between the two organisations. CAIEC and FIDIC have agreed to collaborate in the following key areas of interest:
Information exchange – Sharing of information on publications, exchanging weblinks, information sharing on events and exchanging knowledge and tools on engineering design issues.
Membership – CAIEC and FIDIC to explore how they can develop a membership model in China which provides a better representation of the consulting engineering industry by the Chinese FIDIC member association, the CNAEC, and to work together to support international consultants becoming members of CAIEC.
Events and visits – FIDIC and CAIEC will conduct exchange visits to explore collaborative issues, invite each other to participate in their respective organisation's events and CAIEC will invite FIDIC to send speakers to its conferences and workshops.
Training and certification programmes – FIDIC and CAIEC will discuss establishing a consulting engineer training and certification programme to meet the needs of the various modes of international engineering and consulting services.
One Belt One Road construction – To provide opportunities for discussion and collaboration between Chinese, international and local consultants on the Belt and Road initiative (BRI) and to jointly explore the application of FIDIC contracts and FIDIC Golden Principles for BRI projects and develop standard templates for documents to support their use. FIDIC and CAIEC will also actively support the principle that the planning, design and supervision of BRI projects are undertaken by collaborative integrated teams of Chinese, international and local consultants to optimise outcomes in line with FIDIC's values of quality, integrity and sustainability and the legacy created for society.
Commenting on the signing of the MoU, FIDIC chief executive Dr Nelson Ogunshakin said: "I am delighted that FIDIC has signed this landmark agreement with CAIEC and to be working closely with them on areas of mutual interest. Our MoU will be a big boost for FIDIC members, international consulting and engineering firms and also the construction sector in China and we are looking forward to working with CAIEC over the next three years."
FIDIC president Bill Howard said: "This agreement is another significant step in FIDIC's efforts to work in global partnership with the Chinese construction industry. I am delighted to see such collaboration between industry associations in China and I am sure that by working together in a spirit of partnership we will be able to promote mutual understanding and achieve increased cooperation across the construction sector in China, thereby improving the quality, sustainability and delivery of services."