Faster scaffolding & equipment inspections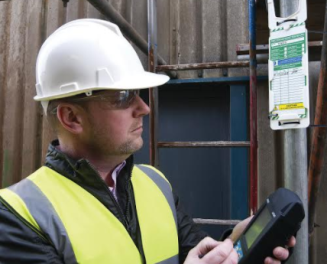 With Brady's Safetrak system, time consuming paper based equipment inspections can become a lot faster. Planning, inspecting and reporting can be streamlined, customised and largely automated in the Safetrak web browser to save time and money.
Digital support for equipment inspections
Safetrak enables you to keep track of inspections digitally and eliminates the need to make time consuming duplicates, decipher hasty handwriting or search for lost inspection papers. At the same time, the web application also includes an advanced inspection planning system that offers a full overview of every inspection planned and enables users to easily plan recurring inspections.
Book in, book out
Safetrak can be used to keep track of a wide range of equipment such as personal protection equipment, drills, hammers, screwdrivers, scaffolding, ladders, label printers or lockout bags. With Safetrak, every tool can easily be checked in or out as long as it is labelled with a serial number, barcode or RFID label.
Automated reporting
Predefined inspection templates can be created in Safetrak to standardise and digitalise a variety of inspection reports. The web application can generate automated high level reports by extracting data from the inspection templates at regular intervals or on demand. With just a few clicks, inspection reports containing the most recent and complete data will always available via Safetrak.
Watch the video & try the Safetrak web application 30 days for free!
BRADY U.K.
Wildmere Industrial Estate
Banbury, Oxon OX16 3JU
Tel:  +44 (0) 1295 228 288
csuk@bradycorp.com